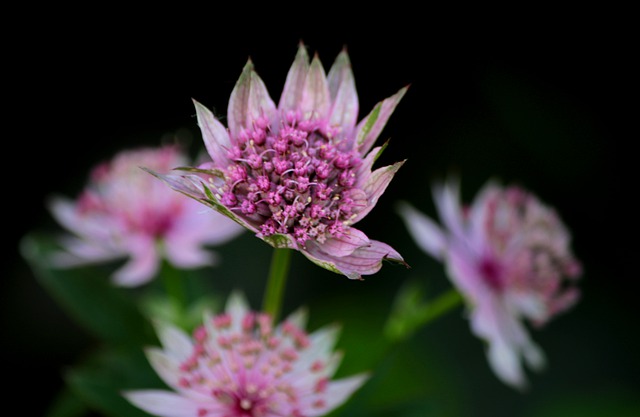 Astrantia flower colors range from white, cream, green-white, light pink, old pink, deep burgundy, dark red, and reddish-purple and can be used in various arrangements. This versatile flower can be mixed and matched with other flowers to create beautiful bouquets or used as a focal point in a mixed floral arrangement.
Flower Color Meaning
Astrantias can be used in various ways in both the garden and in floral arrangements. Depending on the color, these graceful herbaceous perennials convey different symbolic meanings.
White
Like other white flowers, white Astrantia symbolizes innocence and purity.
Pink
Pink astrantia flowers show that a woman is young and beautiful, and they also show that they have a lot of grace.
Red
Flowers in the shape of red astrantias show strength, passion, and bravery.
Astrantia Varieties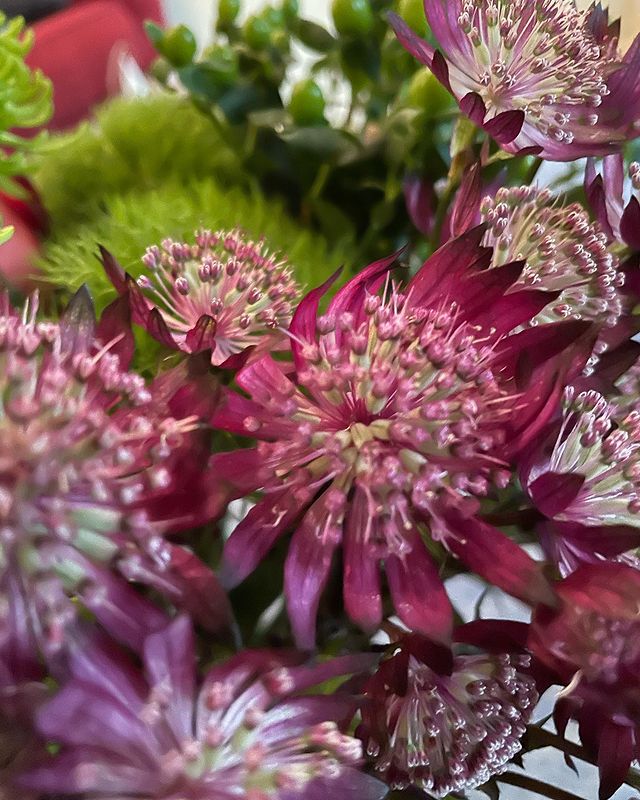 Largest Masterwort (Astrantia maxima)
 small white or rose-pink flowers
An astrantia flower called the Largest Masterwort (A. maxima) is one of the most popular. One of them is that it has been given the Royal Horticultural Society's Award of Garden Merit (RHS). This masterwort can grow up to 60 cm tall and has three-lobed leaves and stems that branch out. Flowers with small white or rose-pink petals are great for filling gardens and making bouquets.
Carnic Masterwort (A. carniolica)
reddish or white flowers
If you're looking for astrantias, A. carniolica is a good choice. Flower stems are long and reddish or white. The plant can grow up to 45 cm tall. A native of Europe's southern-eastern Alps, it can be found in forests, mountain grasslands, and even along streams.
A. carniolica 'Rubra'
maroon flowers
The A. carniolica' Rubra' is a popular small plant with red flowers and green leaves. Because it's small, it works well for cutting flowers and growing in small pots, like in a garden.
Astrantia' Star of Fire'
burgundy-red flowers
Star of Fire is a vigorous grower with unusual burgundy-red starry flowers and tall purple stems. It's called "Star of Fire" for a reason. Even after the flowers have faded, the star-shaped bracts were surrounding them continue to draw attention. Cut astrantias are lovely.
Astrantia' Bloody Mary'
dark red flowers with a silvery green center
Bloody Mary is a medium-sized perennial. The pink flower stalks are lightly bearded in emergence, and they look like they're on fire. This beautiful plant features silvery green cells between each petal, outlining it irregularly from deep red.
Astrantia 'Claret'
deep red pincushion flowers
The 'Claret' has large, witchy-looking flowers with many veins running through them. There are no other leaves, so there is nothing to distract from the frontal view of the flower's gametangia and stamens radiating out throughout most of each bloom.
Astrantia major 'Alba'
white blooms 
The white flowers are borne on a densely furry stem at the top of Astrantia major 'Alba,' which is not confused with the Aloys Giant growing in China. The disposition of its coarse stems and massive foliage suggests that this plant originates from Southern Europe or, thereabouts, probably Italy.
Astrantia major 'Burgundy Manor'
ruby-red pincushion flowers
Pincushion flowers of Astrantia major "Burgundy Manor" are red with a persistent bract that changes from pink to greenish-white in color.
Astrantia major var. rosea
white-pink blooms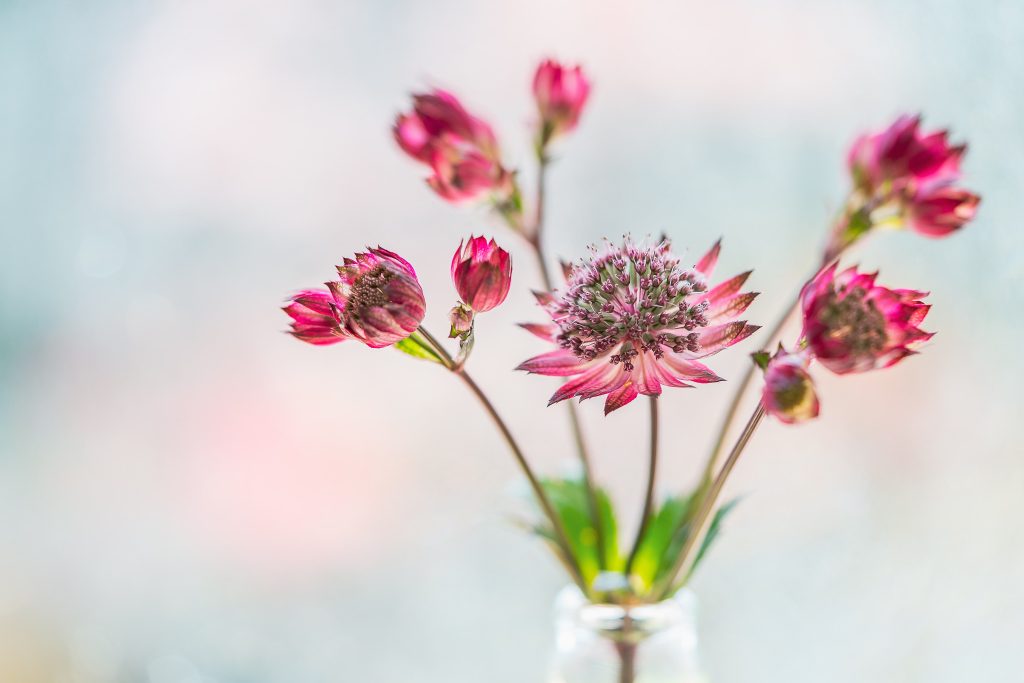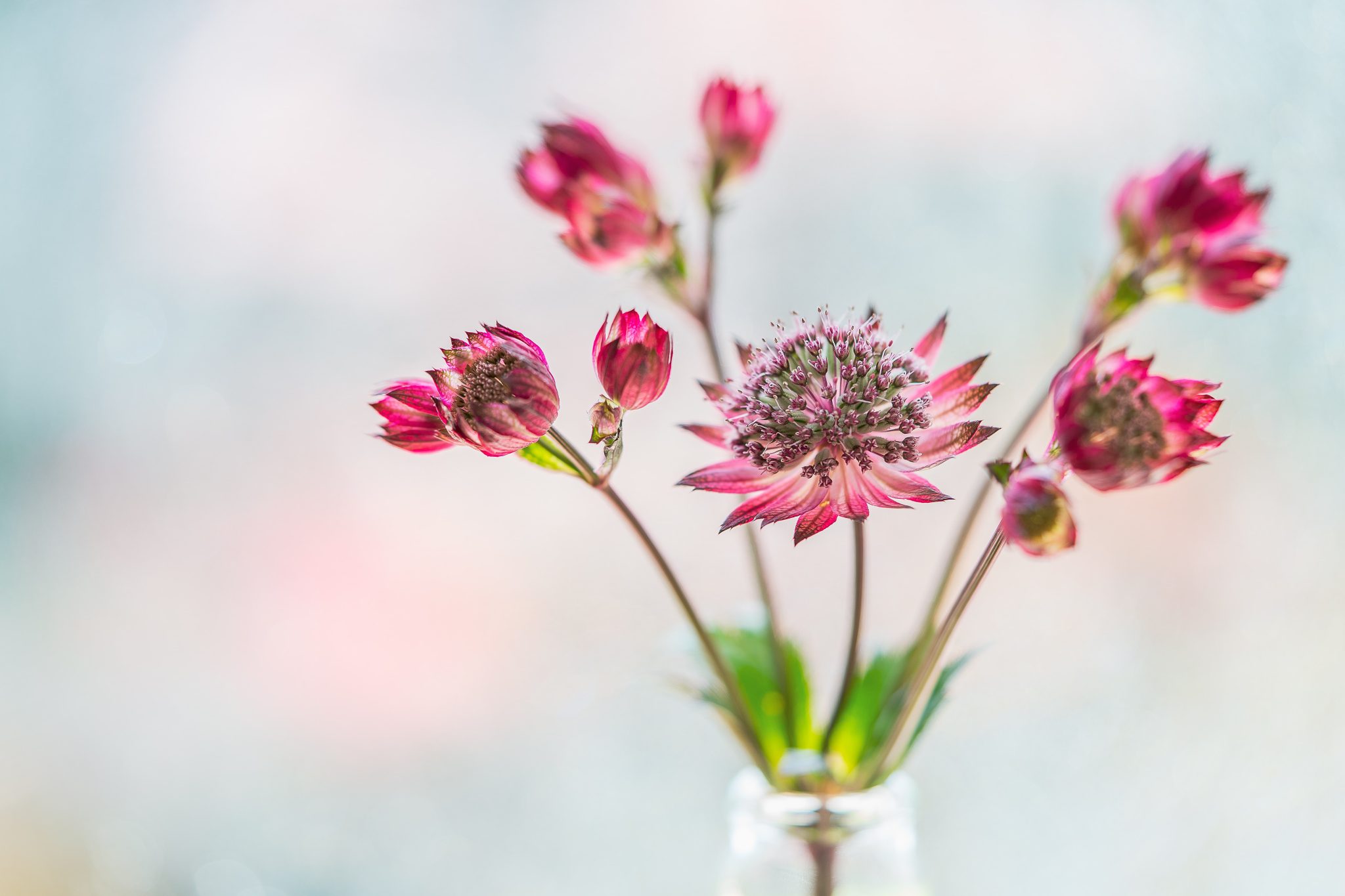 The amazing colors of Astrantia major 'Rosa' result from the climate where it grows. Normally grown in temperatures of 8 °C (46 °F), Astrantia' Rosa 'has small white flowers with greenish-pink encircling bracts before blooming. It's interesting to speculate exactly how this same plant's flower colors would change if planted outside its natural environment.
Astrantia 'Madeleine-van-Bennekom'
 green-tipped white flowers
This Astrantia blooms in midsummer with a showy spike of large, white flowers with a green tip.
Astrantia' Buckland'
green and pink flowers
In the spring, Astrantia "Buckland" comes out with a burst of fresh green leaves, followed by green and pink flowers on wiry stems. This is a beautiful plant!
Astrantia ' Hadspen Blood'
carmine-red pincushion flowers
It's a very pretty flower with carmine-red pincushion flowers and maroon stems.
Astrantia' Gill Richardson'
 deep cherry-red flowers
Astrantia' Gill Richardson' is prized for its deep cherry-red flowers, which last throughout the spring season. In some climates where this plant thrives, it can continue to bloom year after year with little difficulty.
Astrantia major ssp. involucrata 'Shaggy' ('Margery Fish')
large and pure white, tinted green on the edge of each ray floret
An Astrantia major called "Shaggy" (also called "Margery Fish"). A unique variety has flowers that are both big and pure white, with a green tint on the edge of each ray floret. This is a very special type. The display is both beautiful and long-lasting. Easy to grow in the sun or some shade, with a height of 60cm.
Astrantia 'Superstar'
pure white, green-tipped, large-flowered
'Superstar' Astrantia has no foliage. Its rounded, pure white flowers have a short corona tipped green. The center of each floret has very small yellow anthers tucked against its red face. This lovely plant blooms in late spring through early summer and is perfect for mass planting in groups or mixed borders. Stars bloom from late spring to early fall at their best peak every few years.
Astrantia major 'Sunningdale Variegated'
Collared flowers, which dry excellently, are white tinted green with a slight hint of pink.
Its rayed flowers are white with a tint of green on their edges, and the inner face is pink. The bright yellow-green collar at each ray adds further contrast to this fine flower showpiece. Everblooming from late spring into early summer, these were once popular garden plants in England, where they earned the distinction 'The Ladies Choice.'
Astrantia' Buckland'
white, tinged green at the tip, and age pink
The flowers of this beautiful perennial are very pretty, and they dry very well. This is a very flowery and strong-growing variety with classic colors. In Astrantia's Bucket Land, each flower has white bracts, a little green at the top, and turns pink as they get old. The central boss is big, pink, and has a dark pink stain in the middle.
Astrantia major
pale in the collar with a pink central boss
Its seedlings come in all kinds of weird shapes. They usually have a pale collar with a pink central boss. They aren't any less beautiful than their named cousins, but they don't have the same pedigree as them. They are great for growing in a cool, shady place where they can quickly grow and spread.
Astrantia major 'Lola'
 pink-maroon flowers
In this form of masterwort, the petals are flat and open. It has a rich pink color. In the center of the pincushion are a group of tiny pink-maroon true flowers backed by a dark band of bracts. It is an exciting and beautiful plant. Happy in the sun or part shade with a little drainage
Astrantia 'Roma'
 Lovely mid pink 
The color of this cultivar is a lovely mid pink, and its constitution is strong. Unlike actual flowers, which have a tight central pincushion, the bracts have a shallow starry cup lighter in hue. 60cm. A fascinating and visually appealing plant species. If you have some drainage and some sun, this plant will thrive.
Astrantia maxima' Rosea'
 rich sugary pink
This species is the result of Astrantia major. Triangular bracts of sugary pink color are held almost flat. Pincushion flowers have a sizeable dense center. Fresher green than most, the leaves are divided into three lobes. Different in that it tends to disseminate. You'll be fine in the sun or partial shade with some drainage. To Iran from the Caucasus.
Astrantia major 'Venice'
rich pink with a hint of red
It's a colorful masterwort with a hint of red and a large pink flower. It's an impressively robust and flowering variety. Beautiful bracts encircle clusters of burgundy flowers in a sprinkling of color. In full sun or partial shade, this plant thrives with some drainage.
Astrantia'Queen's Children'
dark pink true flowers
In addition to being a strong grower, this variety has the bonus of being both tall and full-bodied. True dark pink flowers adorn the center of the flower's dark burgundy bracts. In some seasons, dark-colored foliage can enhance the overall effect. 
Astrantia 'Claret'
rich dark burgundy red flower
Masterwort is a dark burgundy color with dark bracts and a dark center. Astrantia' Claret' is a name given to seed-raised strains of Astrantia' Ruby Wedding' that originate from the parent plant. A fascinating and beautiful plant. You'll be fine in the sun or partial shade with some drainage.
Astrantia 'Moulin Rouge'
dark red or maroon flowers
The pale green leaves are pretty attractive and contrast with the dark burgundy flowers. Astrantia' Moulin Rouge' bracts bloom in a cascade similar to that of Iris reticulata. Plants growing up to 4 feet tall begin flowering at approximately three years old, though their magnificent displays can be seen all season long after that point.
Astrantia' Hadspen Blood'
darkest red or maroon/mahogany tipped red
It has a very dark red to purple maroon with burgundy tipped bracts. Plants are reliably hardy but will benefit from some summer water in dry climates. In the fall, leaves turn yellow and orange-gold, then drop their foliage, having stayed dormant (7-8 months).
Astrantia major 'Ruby Star'
 ruby red
It's a late-season bloomer of ruby red. As active growers, this Astrantia cultivar performs best when left to flower in the espaliered setting with upright fasciation or cordons. The blazing colored flowers heighten the beauty of any property view and provide a spectacular early spring display. They bloom profusely after vegetative flowering begins around July to September each year.