What Does Astrantia Mean?
The Latin word aster and Greek word astron, meaning "star," are the etymological roots of the English name astrantia, used to describe the entire genus. The symbolic meaning of Astrantia is 'strong, brave protector.' Also, the name Masterwort comes from the Latin word "magistrantia," which comes from the Latin word "magister," which means "master" or "teacher." Small, star-shaped flower heads adorn Astrantia (Astrantia spp. ), a popular summer flower known as Masterworts or Hattie's Pincushions. There are many different white, pink, and red shades to choose from in these shade-loving plants. A favorite among gardeners and florists, they have a long blooming period and are easy to care for.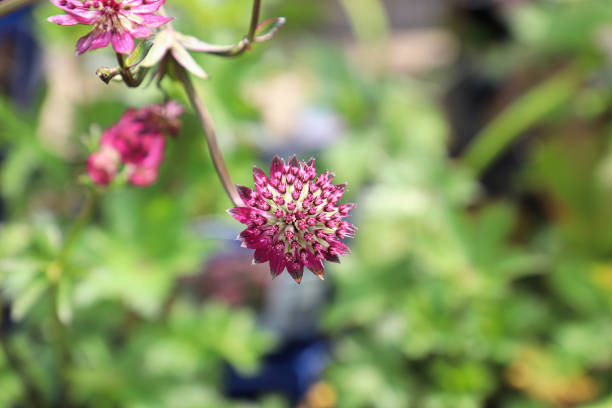 Characteristics
Although they are primarily known for their beautiful flowers, astrantias have several unique characteristics that make them worth learning about. Plants that are herbaceous perennials can reach a height of 1.5 to 2 feet.
The leaves have toothed edges and divided lobes and are palmate in shape. In contrast to other plants that change color in the fall, their leaves remain a medium green throughout the growing season. Tall and wiry stems characterize this variety.
Star-shaped flower heads on astrantia plants form what looks like a pincushion when put together. People who live in woodlands, mountain meadows, wet areas near streams, and gardens with some shade to some sun are all good places for Astrantia (Masterwort), a genus of nine perennial species that are native to Europe and Asia. In the 1500s, astrantias were brought to the UK.
Carrots belong to the Apiaceae family, which includes the genus Astrantia. A. major, A.maxima, and A. carniolica are the most well-known cultivars, with a total of 13 species officially recognized. As well as its generic name, Masterwort is also known as the Carnic Masterwort, Masterwort, or Great Masterwort, among others.
They are herbaceous perennials that like moist soil and dappled shade. They can be found in woodlands. In March, their leaves start to grow. It has glossy green leaves and palmate with serrated edges that look a lot like hellebore leaves.
Astrantia is an umbelliferous, stoloniferous, clumping plant. Involucral bracts, which look like petals, are greenish or pinkish-tinged and cover the flower. The bracts are a showy ruff that goes beyond the flower and is made of papery, petal-like, greenish, or pinkish-tinged involucral bracts. To cut the leaf into 3-7 (usually 5) lobes, palmately, the leaves are cut into 3-7 (usually 5) separate pieces. Leaves are mostly found at the base of the plant, but there are also smaller ones on the stems. Long blooms from late spring to early summer. Often, the bracts look good even after blooming, which is why so many people are drawn to them.
Astrantia is considered to be deer resistant. While no plant can be entirely deer-proof, Astrantia is known for having a bitter taste that deer tend to avoid. However, it's worth noting that hungry deer may still eat Astrantia if no other food options are available.
Flower Colors and Meanings
Like other white flowers, white Astrantia symbolizes innocence and purity. On the other hand, Pink astrantia flowers are symbolic of femininity, youth, and beauty. Flowers of the astrantia genus, red in color, are symbolic of courage, passion, and strength.
Flowering Astrantias are generally a potent symbol of courage, strength, and defense. Inner strength, introspection, and the will to succeed are all represented by this symbol, as is a person's drive to succeed.
Aside from representing femininity, Astrantia also connotes grace, elegance, youth, and purity. Gardeners will love this flower because it symbolizes one's inner strength as gentle, elegant, and courageous.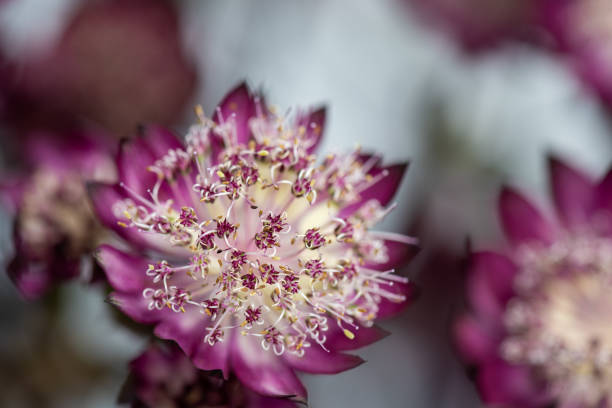 Bloom Time
One of the best things about astrantias is that they bloom all year long. The first flowers appear in late May, and the plant keeps blooming until October. It's worth getting rid of the faded flowers so that the season lasts longer and so that they don't start to spread. It is the best way to grow plants because astrantias don't like root disturbance and can take a long time to grow after being divided. Plant new seeds on the surface of a seed tray filled with compost. Cover the seeds in the tray with fine sand and keep them moist. If the seeds don't grow quickly, leave them over the winter, and new plants should grow in spring.
Benefits & Uses
The plant has been used to treat various ailments, including migraines, colds, dyspnoea, wounds, and ulcers. For those who enjoy unusual blooms, Astrantia is a popular ornamental choice. It is also possible to dry the flowers and use them in arrangements.
Their dark green, palm-like leaves have an exquisite shape and texture, and they produce masses of beautiful flowers for months at a time. Naturalized areas, such as woodlands and cottage gardens, benefit greatly from their vibrant color and accompanying butterfly population, thanks to the presence of this plant. They're also great for the cutting garden, thanks to their fanciful blooms and rich foliage, which look stunning in formal and informal floral arrangements. Astrantia flowers can be dried to preserve their beauty for as long as possible after the blooming season. Gardeners can look forward to stunning blooms all summer long when astrantias are included in their planting plans.
Landscape Uses
Part shade perennial borders, open woodlands, path edges, stream/pond margins, or wild/cottage gardens are all good places to plant it. It thrives in moist, shady areas beneath open trees. For dried flower arrangements, this is an excellent choice.
The ease with which it can be planted, cared for, and grown and its stunning appearance make Astrantia one of the most popular flowers among gardeners and florists. Astrantia adds a soft, elegant, and summery touch to any garden.
Plant Care Requirements
Soil should be organically rich, moist, and well-drained. To prevent soils from drying out, they must be kept consistently moist. Temperatures below 70°F at night are ideal for the plant's best performance in cool summer climates, a cultural preference that unfortunately doesn't fit the typical summer in the St. Louis area. Stolons and self-seeded seedlings can spread plants to form large clumps in ideal conditions.