What Does Gardenia Look Like? Get To Know This Beautiful Flowerplant!
What does a gardenia look like? You've probably seen them in nature or the scent of them wafting through the air. Gardenia is one of the most popular, fragrant, and easy to grow flowers. It can be found in almost any garden throughout the year. However, it isn't just the scent that attracts people to this flower. The fact that this flower blooms all through summer makes it a popular choice for outdoor spaces and attractive at parties. This article explores what Gardenia look like and their different sizes, shapes, and forms.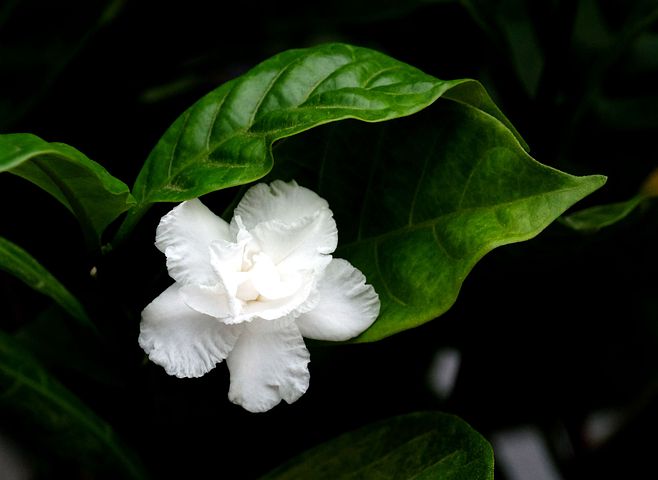 General Size
A gardenia typically grows to heights of 10-12 feet, but some may reach up to 20 or even 30 feet. They are commonly found with leaves measuring 6 inches wide by 12 inches long. As mentioned before, gardenias are very diverse in their appearance. This means that there will be variations even within the same species, so it's essential to look carefully when selecting one to grow as there are no two gardenias that are exactly alike.
Flowers
Gardenias typically have fragrant, white flowers that have an average size up to 2 inches wide. They can be arranged in clusters on upright stems from the base of the plant. The blooms are followed by small, black fruit ranging from a grain to a cherry. Depending on the variety, Gardenia fruits may remain fuzzy or turn brown as they mature.
Gardenia Hips
The fruit of the Gardenia or "hips" are brightly colored, elongated cones that range in color from yellow to orange. The size and shape of the fruit can vary, but they typically measure around 2 inches long and have a crown at the top. Gardenias produce their fruits sporadically throughout the year, but they are most prolific during fall. Inside of the hips is red seeds that can be propagated.
Leaves and Stems
The Gardenia leaves are alternate and measure 6 inches wide by 12 inches long. They are usually glossy and large. The shape depends on the variety. The stems are also typically quite sturdy, meaning they can take a beating during harsh weather conditions. It has a thickness of 1/2 inch.
Gardenia Varieties
There are many different gardenias, with each having its unique features. The following cultivars are described according to their size, foliage and bloom forms:
Large-Sized Cultivars
Aimee Gardenia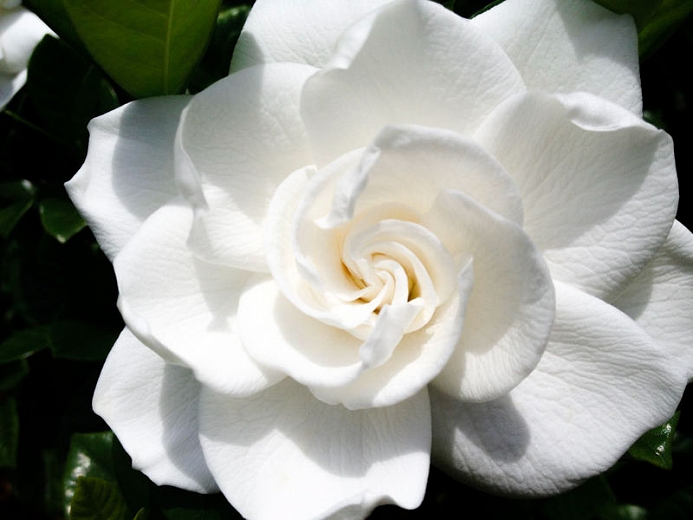 Gardenia jasminoides 'Aimee Yoshioka'
As one of the largest gardenias, this one has 4-5-inch-diameter double flowers, and it may grow up to 10-12 feet tall in moderately cold areas, while the more normal height is 5-6 feet and spread of 4-7 feet. The leaves are large, glossy dark green, and lance-shaped. The blooms are like roses but ivory-white in color, double-shaped, and enticingly aromatic.
Belmont Gardenia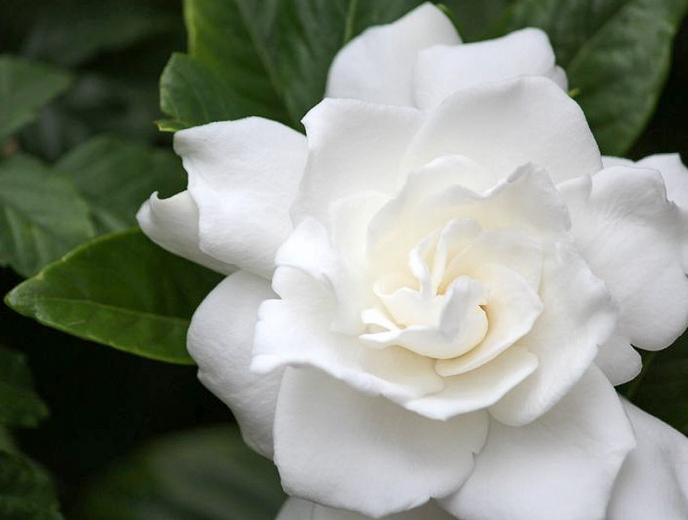 Gardenia jasminoides 'Belmont'
It is a hybrid cultivar and has deep shiny green leaves. It can grow up to 5-8 tall, and 3-6 ft spread. It has 5-inch diameter semi-double blooms, roselike with more than two dozen petals each. The color is creamy white. The flowers have a strong sweet fragrance that is noticeable 150 feet away.
Fortuniana Gardenia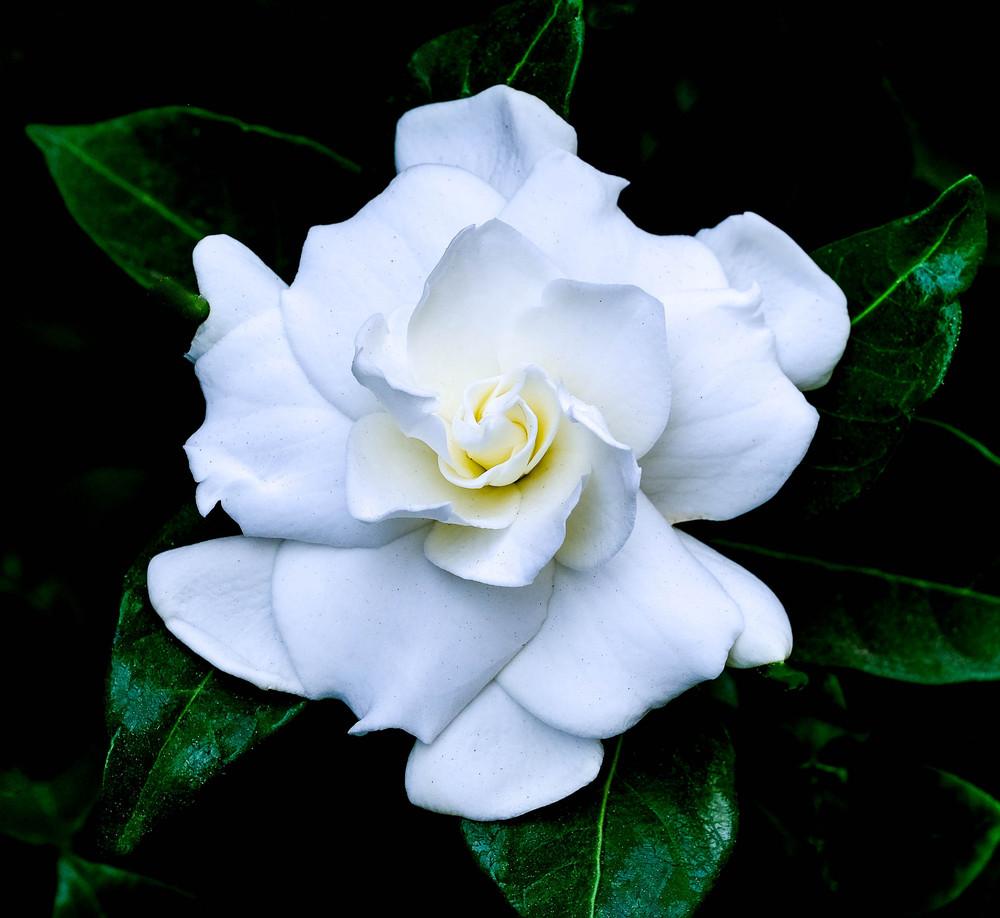 Gardenia jasminoides 'Fortuniana'
It grows up to 6-8 ft tall and wide. it's an evergreen shrub with still shiny, dark green leaves, lance in shape. The scent of the blossom is overwhelming and purely white. They look like camellias, but the petals are slightly curled under the edge with more than twenty petals each.
Miami Supreme Gardenia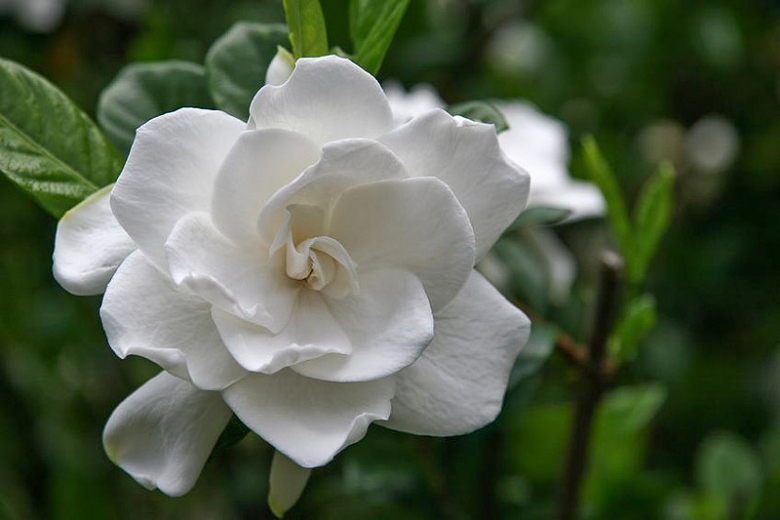 Gardenia jasminoides 'Miami Supreme'
The foliage is deep green, glossy, and slightly waxy. The leaves are about 3-4 inches long and 1/2 inch wide with serrated margins. The flowers are large, robustly verdant, 5-7 inches across, including the petals, which extend 3-4 inches from the center of the flower. The blooms have a strong sweet fragrance, last up to two weeks in intense air conditioning, and pollinate bees. It can grow up to 6 ft. tall and wide.
Gardenia Varieties
| | | | | | |
| --- | --- | --- | --- | --- | --- |
| Popular Varieties | Height | Spread | Bloom Size | Bloom | Leaf- Shape |
| Medium-Sized Cultivars | | | | | |
| Common Gardenia | 3-6 ft. | 3-6 ft. | 3 in. | creamy white | thick, glossy, dark green, lance-shaped |
| August Beauty Gardenia | 4-6 ft. | 3-4 ft. | 3 in. | velvety, double white | thick, glossy, dark green, lance-shaped |
| Cape Jasmine 'Chuck Hayes' | 3-4 ft. | 3-4 ft. | 2-3 in. | double, ivory-white | thick, shiny, dark green, lance- shaped |
| Cape Jasmine 'Coconut Magic' | 3-4 ft. | 3-4 ft. | 5-6 in. | double, ivory-white | thick, shiny, dark green, lance- shaped |
| Cape Jasmine 'Daisy' | 3-4 ft. | 4-5 ft. | 2 in. | flat-faced, single flower | thick, shiny, dark green, lance- shaped |
| Cape Jasmine 'Frostproof' | 4-5 ft. | 3-4 ft. | 2-3 in. | large, double white | thick, glossy, dark green, lance-shaped |
| Cape Jasmine 'Heaven Scent' | 3-4 ft. | 3-4 ft. | 2-3 in. | single, white flower | thick, shiny, dark green, lance- shaped |
| Cape Jasmine 'Jubilation' | 3-4 ft.  | 3 ft. | 2-3 in. | double, pristine white flower | thick, shiny, dark green, lance- shaped |
| Cape Jasmine 'Pinwheel' | 4 ft. | 4 ft. | 2-3 in. | narrow petaled, single white | thick, shiny, dark green, lance- shaped |
| Cape Jasmine 'Veitchii' | 4 ft. | 3 ft. | 2-3 in. | pure white, roselike | thick, shiny, dark green, lance- shaped |
| Cape Jasmine 'Celestial Star' | 3-4 ft. | 3-4 ft. | 2-3 in. | double white | thick, shiny, dark green, lance- shaped |
| Groundcover/ Creeping Varieties | | | | | |
| Gardenia 'Radicans' | 1-2 ft. | 3-4 ft. | 1-3 in. | petite double, white  | small, shiny, dark green, lance- shaped |
| Cape Jasmine 'Buttons' | 2-3 ft. | 2-3 ft. | 2 in. | semi-double, white, button center | small, shiny, dark green, lance- shaped |
| Cape Jasmine 'Crown Jewel' | 2-3 ft. | 3-4 ft. | 3 in. | double, white flower | small, shiny, dark green, lance- shaped |
| Cape Jasmine 'Golden Magic' | 2-3 ft. | 2-3 ft. | 2-3 in. | double, creamy to golden yellow | small, shiny, dark green, lance- shaped |
| 'Lee Two' or 'ScentAmazing' | 2-3 ft. | 2-3 ft. | 2 in. | single, pristine white flower | small, shiny, dark green, lance- shaped |
| Cape Jasmine 'Four Seasons' | 2-3 ft. | 2-3 ft. | 2 in. | loose, double pure white | compact, low growing, lance-shaped |
| Cape Jasmine 'Kleim's Hardy' | 2-3 ft. | 2-3 ft. | 2 in. | starlike, ivory flower with bright golden stamen | small, shiny, dark green, lance- shaped |