31 Most Popular Tulips | A Guide for Novice Gardeners
Spring is finally here, and that means tulips are in full bloom! As one of nature's most beautiful flowers, tulips will add color and beauty to any garden. But which tulips are the most popular? In this article, we'll look at the most popular tulips and why they're so beloved by gardeners everywhere. We'll also give tips on choosing the right tulip for your garden and when to plant them so they will get the best results. So get ready to enjoy the beauty of the tulip season!
31 Most Popular Tulips You Should Know
Angelique Tulip
The most well-known and stunning tulip is called Angelique. It has double, traditional, delicate pink flowers that resemble peonies. It has broad, luxuriant petals that are softly ruffled and range from shell pink to lighter pink. The optimum time to plant this tulip is in the cooler months of late October and November, and it needs frequent watering to extend well. They prefer the sun and can endure some shade. This tulip is highly valued for its elegant appearance and distinctive color.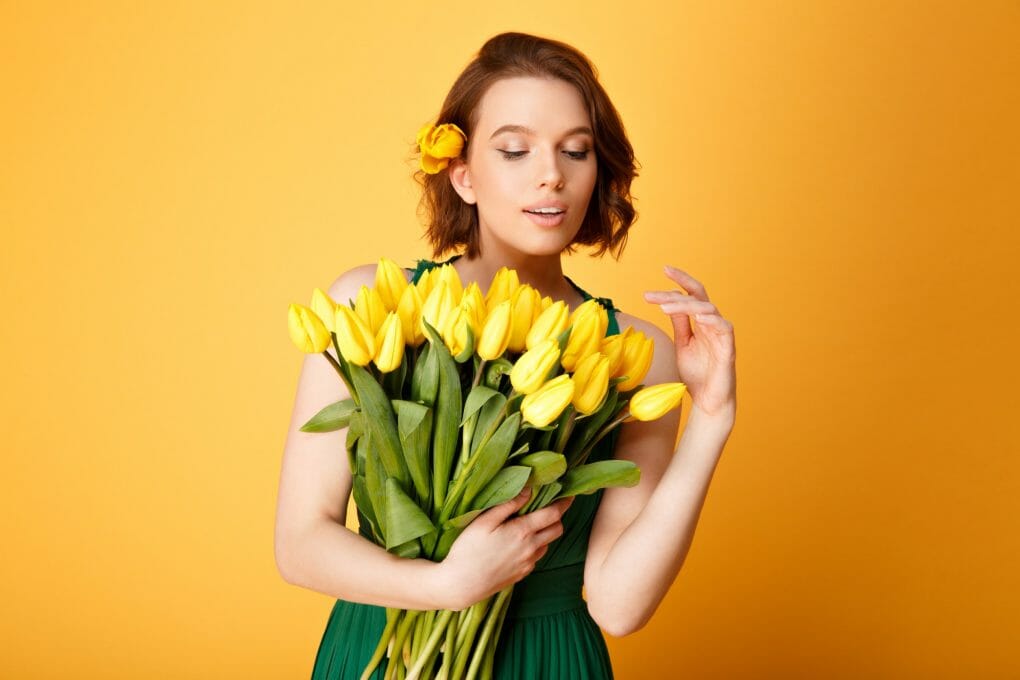 Apricot Beauty Tulip
This is a fantastic tulip, washed with silver on the outside and apricot on the inside. Tulip Apricot beauty combines many shades like salmon, rose, apricot, and even amber accents. It is fragrant and blooms early in the tulip season when it is short in supply. It is an excellent choice for cut flowers.
Big Smile Tulip
This cheery tulip is a big, golden-yellow, egg-shaped flower with green leaves and grayish-green foliage. It has tall, strong stems and well-shaped blooms. This tulip is prized as a cut flower. This tulip thrives on sunlight and attracts butterflies. The flower grows best in well-drained soil and prefers full sun to partial shade. It retains its shape and color till the end. This flower is ideal for pots, containers, and garden beds.
Black Parrot Tulip
This unique tulip has twisted and fringed petals with dark blackish purple and bright green foliage. It is one of the darkest types of tulips and was first released in 1937. Striking clusters of flora surround it. Around well-drained soil, the flower blooms in the late middle of April. This spectacular, show-stopping tulip will enliven your garden with mystery. It will arouse admiration from passersby and make a gorgeous cut flower. The large and full flowers receive plenty of wind shelter because of their size.
Burning Heart Tulip
Burning Heart, a Darwin hybrid tulip, is referred to as a Rembrandt type because it resembles the vividly colored tulips depicted in Rembrandt's and other Dutch paintings from the 1600s. While the inside of this tulip is gentle yellow with a darker foundation, the outside is a bright yellow and red color with solid swirls and crimson flames. The yellow matures and becomes ivory. Therefore, these vividly striped flowers are excellent for cutting or for adornment. Your indoor garden will come to life thanks to this bloom.
Darwin Hybrid Tulip
Darwin Hybrid tulips are among the most popular today because they combine the best features of wide tulip varieties. They have tall, sturdy stems and well-shaped blooms that are often brightly colored. These tulips are excellent additions to traditional flower gardens or can be planted as accents in window boxes, container gardens, or wherever you want some spring cheer.
Double or Peony Tulip
Double or peony tulips are the flowers for gardeners who want a beautiful display that will last well into early summer. These tulips have large petals that are spotted with various colors, including yellow, pink, red, and purple. The double or peony tulip is often combined with other tall flowers to create an eye-catching bouquet.
Double Ice Cream Tulip
Double Ice Cream tulips are a hybrid variety created in the early 1990s by crossing two types of tulips. The flowers have petals that are divided into two parts, giving the tulip a double-flowered look. The petals vary in color from light yellow to creamy white and can be spotted with red or purple highlights.
Double Sun Lover
The luxuriant petals of this double-flowering tulip are a mirror image of the colors of the sunset. With its vibrant yellow and warm orange tones, this late-season beauty would look fantastic in beds or pots. Tulips known as "double sun lovers" often reach 16 to 18 inches and appreciate morning light with afternoon shade. These orange blossoms are what you need in your yard if you want to add some color.
Estella Rijnveld Tulip
It has bright red and white ruffled petals. This cupped flower has irregularly cut petals and a stunning color combination of pink and scarlet with grey-green foliage. Tulipa' Estella Rijnveld' is its scientific name, and it blooms from November to January. It can reach a height of 16 inches and is one of the most striking tulip kinds. The flower needs full sun and well-drained soil.
Flax-Leaved Tulip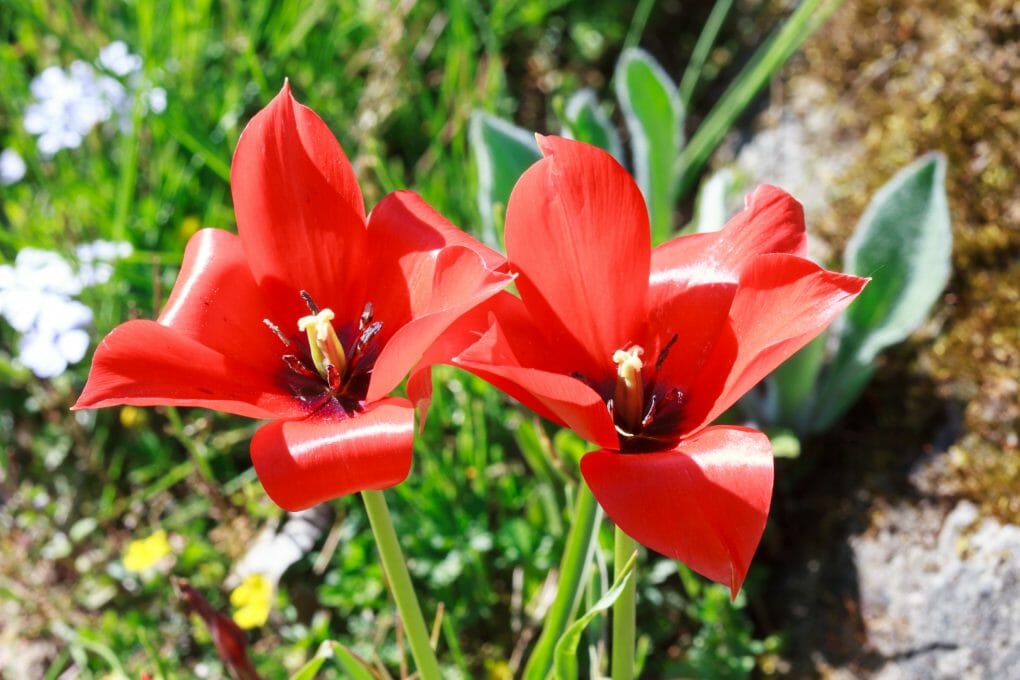 The family Liliaceae includes the genus Tulipa, which contains the tulips known as Linifolia Tulips. Afghanistan, Northern Iran, and Uzbekistan are their native countries. This species of tulip blooms around the middle to end of spring with vibrant red petals and purple centers that resemble open pointed stars. The flower's base is black, and the foliage is a stunning contrast of creamy green. This tulip thrives in nutrient-rich, well-drained soil with afternoon light.
Kolpakowskiana Tulip
One of the unidentified tulips has tiny, bright yellow blossoms with a pink-purple sheen. It is indigenous to Turkestan, Kyrgyzstan, Kazakhstan, and Central Asia under the scientific name Tulipa kolpakowskiana. The butterfly tulip is another name for this flower. Per stem, the plant produces many blooms. The outside of the flower's petals is painted crimson and highly robust. The flower grows best in lots of sunshine and loamy, well-drained soil. It smells pretty good, too.
Fosteriana Tulip
Fosterianas are tulip varieties that typically grow in the highlands of Central Asia and are early bloomers. This tulip is known as an "Emperor" tulip because its blooms can be up to 8 inches across. This type is distinguished by its big leaves, bowl-shaped flowers, and short (topping out at 10 inches) but strong stems.
Himalayan White Tulip
This stunning white wild tulip is primarily found in the Western Himalayas at elevations between 1500 and 3300 meters. A wide red band borders the three outer petals of this single, pure white tulip. This tulip is carried on a tall, grassy-green stem covered in leaves near the base. Typically, this tulip blooms in April and May.
Lady Tulip
It is a large, 4-inch star-shaped flower with deep pink petals on the outside and a little golden center. The plant has an 8-inch width and a height of 6 to 12 inches. It grows best in loamy soil with full sun to soft shade and a tall, straight stem topped with a furled flame. The entire flower reveals a pure, creamy, 4-inch-wide bloom with a golden center. The flowers have a cherry red exterior and a white interior. The flowers reach a diameter of 4 inches and are covered with gray-green leaves.
Little BeautyTulip
This tulip has a short stem with pink buds. It has reddish-pink petals with a deep blue center and a white zone surrounding it and has four blossoms on the bulb. The nearly 4 to 6-inch long, dense, beautiful petals still look delicate.
Little Princess Tulip
Tulipa' Little Princess' is an early bloomer with vibrant yellow and orange petals. Tulipa hageri and Tulipa aucheriana were crossed to create it. The stem at the base of the tulip has a green stripe, giving it a variegated appearance. This tulip can tolerate conditions that are less than ideal for other tulips. Droughts and wet soils are some examples of where this variety thrives best.
Menton Tulip
A traditional type of tulip, Tulip Menton has pinkish-red blossoms with orange undertones and an apricot inside. The flower is over 10 inches tall and has a beautiful goblet shape. It is a relatively resilient tulip that is consistently grown in the middle of spring. Large blossoms are available for cutting.
Montreux
This yellow flower blooms in the early summer. This double tulip has a golden peony-like appearance. The flower has a red, enlarging light as it gets older. If properly cared for, the flower can live for almost a month and has an enticing, seductive aroma.
Negrita Tulip
As it is known scientifically, the Negrita tulip is the most well-known in America. It has deep purple blossoms that appear in the late spring. It produces flowers that endure a long time and is a perennial tulip. In full sunlight and well-drained soil, the bloom can live. Strong stems make it a very good-cut flower.
Persian Pearl Tulip
In North Western Iran and Eastern Turkey, tulip Persian Pearl is widely distributed. It is a distinctively colored flower with a sizable purple-red bloom, a bright yellow center, and an outer that is silver gray. It stands at 4 inches tall and is a delicate tulip. When it has fully expanded, it changes from cups to stars.
Pink Impression Tulip
This gorgeous, rich pink tulip will likely draw admiring glances from passersby. It is a beautiful bloom that would adorn your living room because it is complete, rounded, and long-lasting. The glossy petals start with a rich and deep rose color in the center before fading to a delicate pink towards the edge. They are top-notch tulip that is tall, sturdy, and long-lasting. Hummingbirds and butterflies are drawn to this tulip.
Princess Irene Tulip
The base of the bloom is stained purple, although the flower is primarily orange. Princes Irene has a strong and long-lasting perfume that is delightful. It is undoubtedly a flower that draws attention. Every year, the flower blooms in the early to mid-spring. It has beautiful blue and silver leaves that look lovely in containers. It is a tulip that has won awards and is breathtaking.
Tubergen's Gem
With deep crimson outer petals and bright yellow interior petals, Tubergen's Gem is a flower gem. It produces enormous amounts of tall, colorful flowers. When the flower's petals open wide in the sunlight, it is breathtakingly lovely. Its scientific name is Tulipa clusiana, and it thrives on loamy soil in the early summer. It requires relatively little upkeep and has excellent weather resistance. The term "candlestick tulip" is also given to this variety.
Tarda Tulip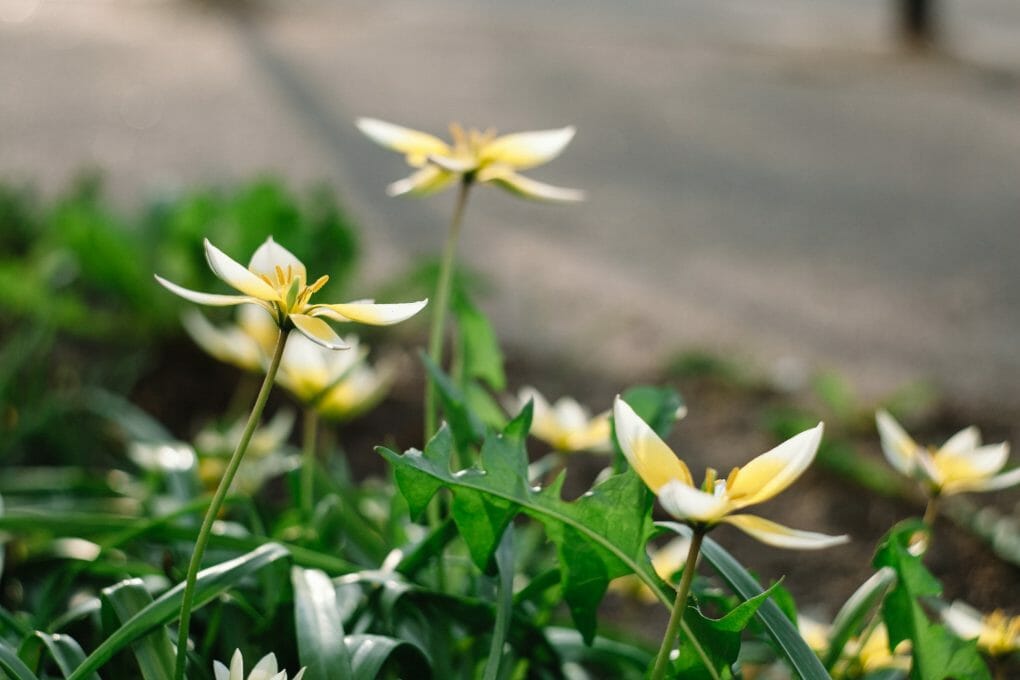 This tulip is perennial and originates from central Asia. Yellow flowers with white tips and yellow centers are arranged in a cluster. It is grown every year and is regarded as the most dependable tulip. The plant on a single stem produces five flowers. The bloom has even taken home awards from the Royal Horticultural Society, including the 1993 Award of Garden Merit and the 1997 Flower Bulb of the Year. The plants, about 8 inches tall, are open on bright days.
Turkestanica Tulip
Turkestanica is a rare and beautiful tulip. It is an alpine tulip and thrives in the majority of soil types. Because there are so many star-shaped blossoms, a cushion of color ranging from antique cream to pure white is produced. Each of these tulips contrasts an orange and yellow center. It comes from Central Asia and blooms in the middle of March. It has tiny bell-shaped blooms and slender, strappy leaves.
Unicum Tulip
One of the most vivid cup-shaped tulips, Unicum has several reddish-orange blooms, green leaves, and stunning striped foliage. Mid-spring is when the flower blooms best and prefers sunlight and well-drained soil. The blossoms make lovely cut flowers. It doesn't need a lot of pruning and needs minimal upkeep.
Wild Tulip
These tiny sweeties are the first to emerge and become perennial if given good care. They come in various vivid, clear hues, frequently with contrasting central colors. It was created in the very early 1800s.
White Parrot Tulip
Large white blossoms with a faint green tinge are found on white parrot tulips. The petals' ruffles and feathers give the impression that the flower has a spherical head. A sturdy stem supports this unadulterated tulip. It is a lavish and durable tulip that produces a beautiful cut flower for a floral bouquet.
Shirley Tulip
Shirley tulips are a unique variety of tulips with a stunning color scheme. It is a lovely tulip that is ivory white in hue with a mauve border. As the flower ages, it progressively develops an entirely purple hue and fades to a cleaner white with a dark-stained purple base. No two flowers have the same color since the color changes from petal to petal. They have a single cup-shaped blossom and make a beautiful cut flower option. This tulip typically blooms in April and May and reaches a height of around 50 cm.
Zurel Tulip
Zurel is a single-flowered mid-season tulip with stunning white and beetroot blossoms that give it a characteristic flamed appearance. The flower starts conical before opening into a round shape. It adds some much-needed color and would be gorgeous as yard décor. The bloom features lovely foliage and a strong, sturdy stem.