Dahlia: A Flower That Attracts Bees? – What You Need To Know
Dahlias are one of the most known plants in the world, and for a good reason. They're beautiful, versatile, and easy to grow. But did you know that dahlias attract bees? This is thanks to their characteristic flowers – each with a long spike of petals that look like honeycombs. As bees travel from bloom to bloom, they collect pollen and nectar which is why dahlias are a great part of a bee's diet. If you're curious about whether or not your dahlia attracts bees, read on to find out more!
Will Bees Be Attracted to My Dahlia?
There's a lot of mystery surrounding dahlias. Some people say they attract bees, while others maintain that dahlias are just flowers. Keep your dahlia tidy by removing faded flowers and leaves every few weeks to keep them looking their best. Dahlias appear to be the pollinators' favorite flower. This flower is all through the fall, from late summer onward, when hungry bees are looking for food. Bees and bumblebees love it because pollen is essential for their survival and the construction of their hives.
Pollinators that Visit Dahlias
Bumble bees, honey bees, and other species of solitary bees will frequent them if you choose the right varieties. Beautiful butterflies are also drawn to the flowering tops, and I find this to be a particularly enchanting sight. Fly species, including hoverflies, are also common visitors. They have no problem sharing the flower crowns.
Dahlia Varieties that Bees and Pollinators Like
Most dahlia varieties are popular with both bees and butterflies. Knowing which pollinator visits your flowers will help you select the right variety for your garden or landscape. Furthermore, certain dahlias have been shown to be especially attractive to pollinator species – such as bumblebees! So if you want your flowers to provide nectar and pollen for beneficial insects like these, then it is important to choose varieties they love!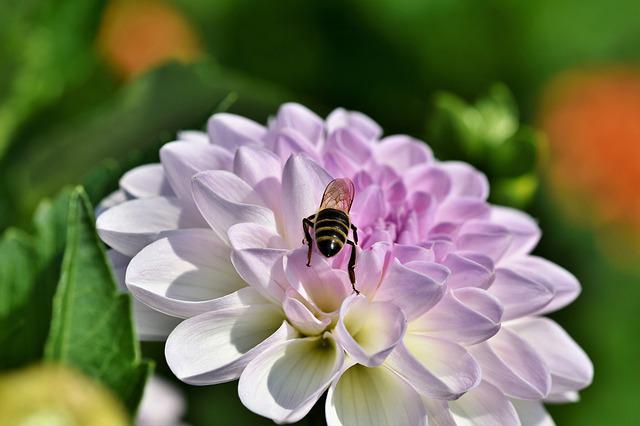 Dahlia Varieties that Attract Bees:
White:
Dahlia 'Cherubino'
Dahlia 'Classic Swanlake'
Dahlia 'Omo'
Dahlia 'Twyning's After Eight'
Dahlia 'Trelyn Daisy'
Peachy Shades, Blushed Pink/ Yellow/ Orange:
Dahlia 'April Heather'
Dahlia 'Bishop of Oxford'
Dahlia 'Carol Klein'
Dahlia 'Classic Poème'
Dahlia 'Dream Seeker'
Dahlia 'Happy Single Date'
Dahlia 'John Hill'
Dahlia 'Waltzing Mathilda'
Dahlia 'Peachette'
Oranges and Yellows:
Dahlia 'Bishop of York' (Misc) 
Dahlia 'Harvest Amanda'
Dahlia 'Harvest Inflammation'
Dahlia 'Pooh – Swan Island'
Dahlia 'Moonfire'
Dahlia 'Ossie Latham'
Dahlia 'Sunshine'
Dahlia 'Yellow Hammer'
Deep Crimsons and Reds: 
Dahlia 'Annika'
Dahlia 'Bishop of Llandaff'
Dahlia 'Dark Desire'
Dahlia 'Scarlet Fern'
Dahlia 'Mystic Wonder'
Dahlia 'Nuit d'Eté'
Dahlia Pulp Fiction
Dahlia 'Twyning's Chocolate'
Pinks:
Dahlia 'Bishop of Leicester'
Dahlia 'Chatsworth Splendour'
Dahlia 'Fascination'
Dahlia 'Happy Single Wink'
Dahlia 'Harvest Samantha'
Dahlia 'Hillcrest Regal'
Dahlia 'Little Dorrit'
Dahlia 'Pretty Woman'
Dahlia 'Star Wars'
Dahlia 'Tartarus' 
Dahlia 'Teesbrooke Red Eye'
Dahlia 'Twyning's Pink Fish'
12 Single-Flowered Dahlia Cultivar's to Consider
'Bishop of Auckland'
'Chocolate Sundae'
'Yellow Bird'
'Ian Hislop'
'Joe Swift'
'Kelsey Annie Joy'
'Magenta Star
'Night Butterfly'
'Twynings Candy'
'Teesbrooke Audrey'
'Verrone's Obsidian'
Why Do Bees Like Dahlias?
Bumblebees and honeybees love dahlias for the nectar they produce. Dahlias have plenty of sugar in their nectar, making it a favorite of these pollinators. To increase your bee population, try growing dahlias around your garden! Other reasons why bees like dahlias include the shape of the petals, color, fragrance, and size. So if you want to attract pollinator insects to your plants – such as bees or butterflies – choosing flowering plants with pretty petals is one way to go!
Do Dahlias Have Nectar?
Dahlias are beautiful flowers that attract pollinators like bees. They secrete nectar and open their petals early in the morning and late at night, making them an ideal choice for beekeepers. In addition to bees, other pollinators such as butterflies will also love dahlias! If you wanted to attract pollinators to your garden of dahlias, make sure to plant bee-friendly varieties! This means selecting plants with large petals and fragrant flowers.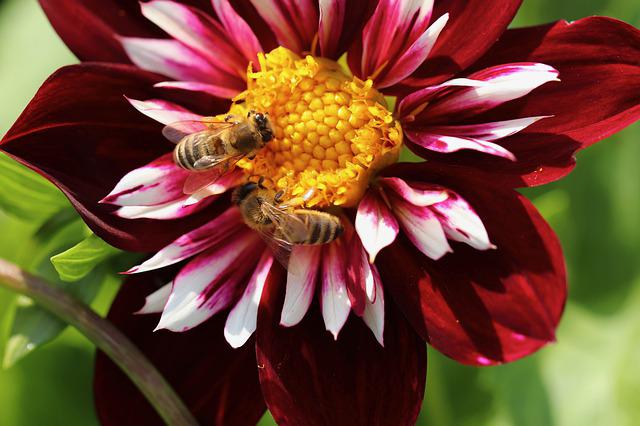 Are Dahlias Good for Honey Bees?
Dahlias may be a good source of nectar and pollen for honey bees in your garden. Keep an eye on the bee population to see if they benefit from this! Dahlias themselves do not produce much nectar, but the bee-attracting pedals and leaves might contain enough for pollination purposes. However, note that other insects such as bumblebees or butterflies might also visit your dahlias and help with pollination.
Are Dahlias Good for Honey Bees?
Dahlias are a good flower for honey bees because of their long petals and numerous nectar spots. In addition, dahlias flowers do not go to seed, which keeps the number of plants available next year high. Furthermore, providing a good environment for honey bees includes planting them in a sunny spot.