Are Mini Pumpkins Edible? 34 Adorable Small Varieties of Mini Pumpkins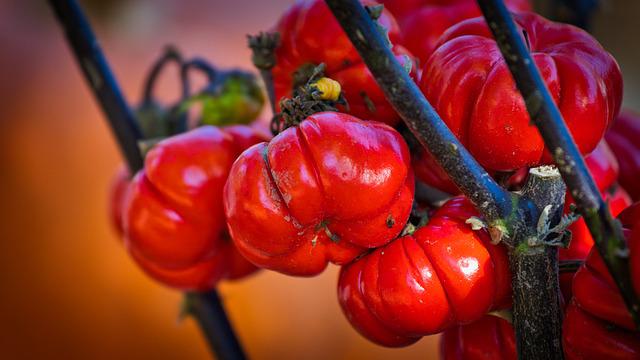 Mini Pumpkins are edible and add to your pumpkin pie or bread pudding recipe. They have a sweet flavor like regular pumpkins, and they also tend to hold their shape better when baked or fried.
Are Different Varieties of Pumpkins Edible?
Yes, pumpkins can be eaten just like other winter squash. Each variety has unique characteristics that make it perfect for certain applications or recipes. Some kinds of pumpkins are prettier than tasty, so it's best to carve them. Some of them can be very watery and have no taste. Different kinds of winter squash are the same way. But there are some exceptions to the idea that pumpkins and winter squash are not good to eat. Many of them are very tasty, sweet, and full of flavor.
Are Mini Pumpkins Squash?
Mini pumpkins are small, spherical winter squashes typically used for fall decorations and crafts. Most miniature pumpkins are between 5 and 7 inches wide and weigh between 4 ounces and 2 pounds. Certain mini pumpkin varieties are also edible. Read on to discover the best varieties of mini pumpkins available this autumn.
Are Little Pumpkins Pumpkins?
Botanically speaking, mini pumpkins are not pumpkins. Instead, they are a type of gourd. There are many different mini pumpkins, but the most well-known is the Jack Be Little.
How Big Are Mini Pumpkins?
The majority of miniature pumpkins range from 5 to 7 inches in width and weigh between 4 ounces and 2 pounds. The plants make six or seven little pumpkins that kids love seeing them. Mini pumpkins are small, spherical winter squashes commonly used in autumnal decor and crafts. These small pumpkins (primarily Cucurbita pepo) are ideal for young children because they are neither heavy nor large to carry. The sides of some miniature pumpkins are deeply ribbed, whereas others are round like a baseball. Some varieties are bright orange, others are striped, and others have distinctively patterned rinds. Some types of mini pumpkins are also edible.
How Long Do Mini Pumpkins Take To Mature?
Weighing in at less than four pounds, small pumpkins can be as small as one pound in some cases. Small fruited varieties, like giant pumpkins, necessitate a lengthy growing season, often exceeding 100 days, for the plants to mature and the fruits to ripen fully.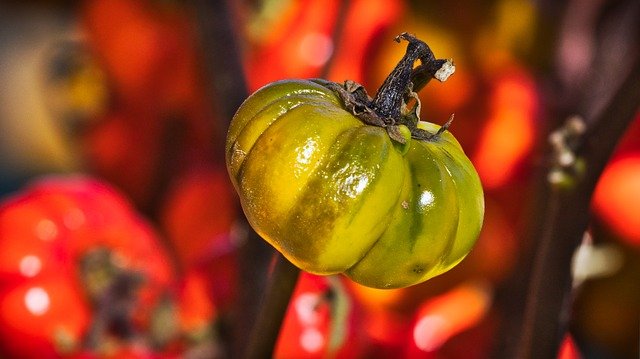 Adorable Small Varieties of Mini Pumpkins
1. Apprentice Mini Pumpkin
Apprentice is a miniature version of Lil' Ironsides, one of our best-selling figures. Pumpkins with a 1 lb. hard shell can be grown on compact bush plants. They range from 4 to 5 inches in diameter, are smooth and ribbed-free, and are an attractive burnt orange color. The fruit is resistant to Phytophthora and Fusarium fruit rots, and the handles are well-matched to the fruit. These pumpkins are ideal for decorating and painting with their long shelf life.
2. Baby Bear Mini Pumpkin
The deep orange, 1-1/2 to 2-1/2-pound fruits of Baby Bear, are approximately half the size of a typical pie pumpkin. Children are drawn to the handles because they are slim, sturdy, and easy to grasp. In addition to its decorative value, the flesh can be used to make pies, and the semi-hulless seeds can be roasted and eaten as a snack.
3. Baby Boo Mini Pumpkin
Each Baby Boo Pumpkin plant bears an average of ten 3 in. wide white miniature fruits on trailing vines. Cooking with its white flesh is possible. It's 95 days from the time of seed germination to harvest.
4. Baby Pam
It is one of the most sought-after miniature pumpkins for pies. They weigh approximately 4-5 pounds and are orange and slightly ribbed.
If you plant your own Baby Pam, you can anticipate three and five pumpkins per plant. Baby Pam plants typically reach maturity three to four months after sprouting. At this time, they should be between 12 and 24 inches tall.
5. Batwing Mini Pumpkin
It's known for its unique pattern, which gives these orange pumpkins the appearance of being dipped in dark-green paint. Each pumpkin has its own "bat wing" patterning and weighs between 0.5 and 1 pound when fully mature. The fruits will turn entirely orange if left on the vine, so picking them early is recommended. Because this is a bush vine, it will require more space to sprawl and stroll through your garden or yard. The vines produce fruits in groups of four to ten. After sowing your seeds, you can expect fruit in 80-85 days.
6. Black Kat Pumpkin
Black Kat F1 is a hybrid pumpkin about the size of a person's hand and is a very dark green color. It is the right size for restaurants or displays. This pumpkin has a classic shape and a beautiful look. Black Kat F1 grows into a bushy plant and makes a lot of buds. Even though they are only 8 ounces to 1 pound and deep Brunswick green or almost black, these Pumpkins pack a big dramatic punch. It has a traditional round shape with deep ribs and a black stem. You can use their sweet, pale orange flesh to make your favorite pie recipe. They keep well and turn orange over time.
7. Blaze Miniature Pumpkin
Colorful and prolific, the Blaze Pumpkin is a hybrid ornamental pumpkin. This variety, named Blaze, yields large quantities of yellow and orange striped pumpkins uniform in size. These vibrant hues will stand out in any garden or market stand, no matter how small.
The fruits of the Blaze Pumpkin are flattened and have shallow ribs. 3.5′′ tall, 7′′ wide, and 3 lbs are the average pumpkin measurements. Each plant produces up to 12 plants, making it an excellent choice for any garden size.
8. Bumpkin Mini Pumpkin
A bumpkin is a miniature orange pumpkin variety that produces fruits weighing 6 and 8 ounces. These pumpkins are particularly suitable for indoor seasonal displays. Combine them with Gooligan and Hooligan pumpkins to create a charming autumnal display.
9. Casperita Miniature Pumpkin
The Casperita Pumpkin is a hybrid, small, bright-white pumpkin that usually weighs between 0.5 and 1 lb. There are about 15-20 pumpkins on each plant. You can decorate with it or eat it. It is not affected by powdery mildew. Cucurbita pepo takes 75 days to grow. It has a high yield, and each plant makes an average of 15–20 pumpkins. The pumpkins weigh between 0.5 and 1 lb each and stay white in the field until they are picked. This miniature pumpkin usually needs less space to grow than larger pumpkins.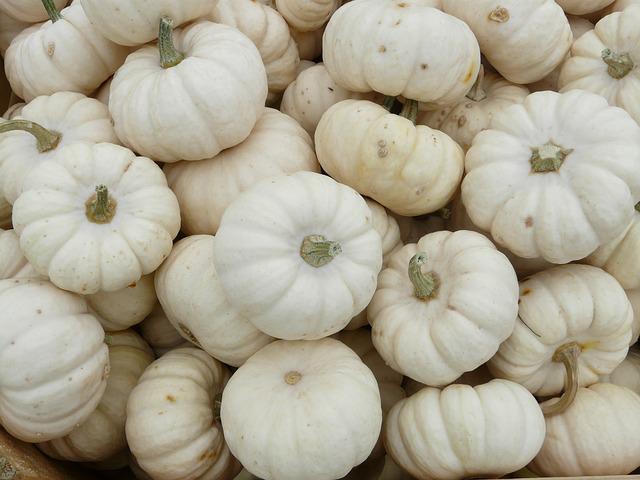 10. Cherokee Tan
Cherokee Tan pumpkins are orange-tan heirloom pumpkins originally cultivated by Cherokee natives. Thus their name. They are highly resistant to disease. In addition, they are resistant to heat and thrive during the winter. These characteristics make them easy to store. Pumpkins of the Cherokee Tan variety are slightly ribbed. They are ideal for rustic autumnal decoration and also have culinary applications.
11. Crunchkin Mini Pumpkin
Fall sales are booming for Crunchkin, the hard shell variant of our popular Munchkin. The flat, orange-colored fruit has prominent ribs and slight flecking. Crunchkin produces large yields of its miniature fruit on bush-type vines. Its hard shell allows it to be stored for a longer period, allowing it to be sold for Thanksgiving table decorations and autumn floral arrangements.
12. Fall Splendor
Pumpkins of the Fall Splendor variety are a hybrid variety. They typically weigh between 4 and 6 pounds and range in width from 6 to 8 inches.
Children love Fall Splendor pumpkins because they are simple to carve. They are also resistant to powdery mildew so you can plant them without too much concern.
13. Gold Dust Miniature Pumpkin
Like the popular Jack-Be-Little mini pumpkin, the Gold Dust Pumpkin is small. Each pumpkin weighs about 6 ounces and measures 3-4 inches wide by 2 inches high. Gold Dust pumpkins are smaller and have a deeper orange rind than other types of pumpkins.
It is a semi-bush hybrid developed by Rupp that has darker fruit and better powdery mildew resistance than Jack-B-Quick. Fruit sets close to the crown and avoids virus flecking early on—the most popular variety among growers.
14. Gooligan Mini Pumpkin
Easy-to-grow Gooligan is a vigorous vine that produces many small, perfect 6 "White orbs weighing between 1/4 and 1 pound. Since the fruits are so small, they can only produce up to six. "When trellised, its diameter can be as large as the diameter of a necklace. This Gooligan can be baked in its entirety: remove the lid, scoop out the seeds, add maple syrup and brown sugar, and a fresh Sage leaf to the mixture. Fork-piercing tenderness is achieved when the steaming pale orange flesh is baked at 350 degrees Fahrenheit for about an hour and a half. It's absolute bliss with a smidge of remorse. In 90-100 days, it's ready for harvest.
15. Half Pint Mini Pumpkin
It is a small hybrid that doesn't get sick quickly. It is known for its large amounts of fruit and high yields. This type of pumpkin will make a lot of small pumpkins in a small space. The plants grow in a semi-bush shape and will need less space than bigger pumpkins.
It grows small, round pumpkins that weigh about half a pound each. Each pumpkin is almost perfectly round, has the same color, and is the same size. The fruit also has a strong handle that can carry or hold it.
16. Honey Bear Squash
Honey Bear's acorn squash was made to be baked and served in half shells. The "honey" in "Honey Bear" comes from the sweetness of cooked squash. This squash has a great taste and three other great qualities: a compact plant, a high yield, and the ability to resist powdery mildew. Without vines, the bushy, compact plant will grow 1 m (3 ft) tall and 1.5 m (5 ft) wide. The dark green acorn squash weighs about a pound, which is just the right amount for two people to share. Each bush of the plant makes between 3 and 5 fruits. "Honey Bear" keeps making fruit for the whole growing season.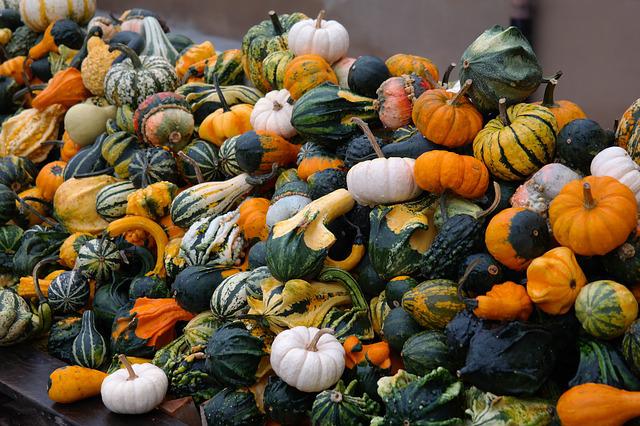 17. Hooligan Mini Pumpkin
Hooligan Pumpkin is a small hybrid pumpkin with light yellow and orange spots. These pretty little pumpkins are mainly used as decorations, making great snacks. The fruits are 2 inches tall and 3 to 4 inches across on average. The ribs on these pumpkins are deep and wide, and they only weigh about 1/4 lb. Because the plants are small and the fruit is close together, this is an excellent variety for gardens with little space.
18. Jack Be Little Mini Pumpkins
Jack Be Little pumpkins are pretty bottle green, and when they're ready to eat, they all turn orange. Each smooth fruit is a bit flattened and has deep ribs. This fruit is only five centimeters tall, and its top is about thirteen centimeters wide. Jack Be Little gets even sweeter and more citrusy when baked or roasted. They taste great in both sweet and savory dishes. The best places to grow Jack Be Little Pumpkins are zones 3 through 9. Mexico and Europe also grow them. You'll be able to find them at a pumpkin patch or grocery store near you. You can order them online if you don't want to look for them outside.
19. Jack-Be-Quick Mini Pumpkin
Jack Be Quick Pumpkin is a slightly smaller pumpkin, an updated version of the popular Jack-Be-Little mini pumpkin. They're only 2″ wide and 2″ high when fully grown and weigh about 4 ounces each. The orange is darker than Jack-Be-Little's, and the ribs are deeper.
20. Jill-Be-Little Mini Pumpkin
Jill Be Little is a small pumpkin with a deep orange color and deep ribs that look nice. The fruits get to be 10 cm in diameter and weigh 200 to 250 grams.
It is easy to grow and matures quickly. Peony grows well in large pots and containers against a trellis, wall, or hedge so that it can climb and spread by up to 2 meters. Children will love these cute little pumpkins, and you can eat them, too, by cutting them up or roasting them whole with olive oil.
21. Kandy Korn Miniature Pumpkin
Despite its diminutive stature, this little guy packs quite a punch. Miniature fruits in deep orange are adorned with dark green handles. Each plant produces a lot of fruit on a bush vine, which saves space and increases yield per acre. Cucurbita pepo is ready in 85 days. Despite their diminutive stature, these pumpkins pack quite a punch. Golden-orange fruit with a broad, deep green handle, 4 inches in diameter and 3 12 inches tall, is ideal for fall decorating both indoors and outdoors. A single semi-bush plant can produce up to a dozen or more fruits. Grain contains approximately 10 seedlings.
22. Little October
This month's pumpkins are heirloom varieties that are dark orange. Small, round bodies with little or no ribbing make them famous. They are 3 to 4 inches wide and weigh between 0.5 and 0.75 pounds.
23. Lil' Orange-Mon Mini Pumpkin
Lil' Pump-Ke-pumpkin Mon's friend in miniature form. 1-2 pound fruits have a deep orange color and creamy orange flecking on the surface. Fall displays benefit from the variety's long, thin stem and deep ribs. Approximately 2″ in height and 4″ in diameter, these pumpkins are grown on bush-type plants.
24. Lil' Pump-Ke-Mon Mini Pumpkin
The charming and cheery fruit has a rind that is bone white, and it is decorated with bright orange in the grooves, with a little bit of green thrown in there. The plants produce excellent yields of the uniform, squat fruit that measures 5 12 inches wide by 3 inches high. Your fall decorations and feasts will be infused with the lively personality of autumn, thanks to Lil' Pump-ke-mon. Individual servings can be made with ease using this convenient size. Cucurbita pepo is ready to harvest within 100 days.
25. Midnight Mini Pumpkin
Midnight is a small pumpkin that is almost black. It looks great with Casperita and Orangita to make a set of three to get people's attention. In 80 days, the very dark green fruits are ready to be picked. They grow in clusters on semi-bush plants that are moderately resistant to Powdery Mildew.
26. Munchkin Miniature Pumpkin
The Munchkin Pumpkin is a classic, deeply ribbed mini orange ornamental pumpkin. It weighs about 6 ounces per Munchkin Pumpkin, about 3-4 inches in diameter and 2 inches in height. The vibrant orange color of this variety makes it ideal for use as an autumnal accent in a home or garden.
27. New England Sugar Pie
Orange heirloom New England Sugar Pie pumpkins have a spherical shape. Because of the name, they are most commonly used to make pies. New England Sugar Pie pumpkins can also be used for muffins, soups, and lattes. It is typical for a New England Sugar Pie pumpkin to weigh less than 5 pounds and have a diameter of 6 to 8 inches.
28. Orangita Mini Pumpkin
It's a beautiful miniature pumpkin with a disk shape and deep ribbed ridges. It is a hybrid pumpkin with an attractive shape, a dark orange hue, and prominent ribs. The mature fruit weighs between 1 and 1.5 pounds. The interior is as tender and sweet as acorn squash.
29. Small Sugar
Most of the time, small sugar pumpkins are used to make pies. But they can also be used in other ways when cooking. They are 7 to 10 inches wide and weigh about 6 pounds. Small Sugar pumpkins are round, but the bottoms of the pumpkins are flattened. They are a deep orange color, and their ribs aren't too hard to see.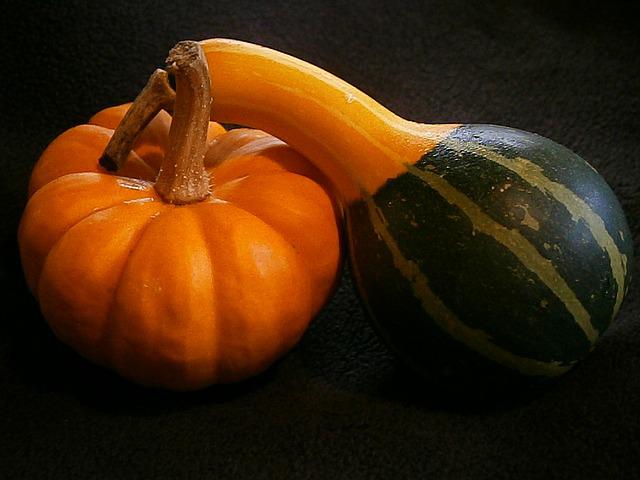 30. Snowball
Snowball pumpkins have a bright white color, which makes them very attractive. Snowballs got their name because they are very white and look like balls.
A typical Snowball pumpkin weighs between 2 and 4 pounds and has few or no ridges. Snowball pumpkins are great for painting because they are smooth and white. But you can also cook with them.
31. Spark Mini Pumpkin
Like Hooligan and Jill-Be-Little, Spark Pumpkin is a small, ribbed orange mini pumpkin. The ornamental fruit has a diameter of about 3.5 inches and a height of about 2 inches. Maturity comes with a half-pound weight. This ornamental variety has a dark green handle firmly attached to the fruit and is very uniform in its stripes. Perfect for the upcoming holiday season.
32. Sweet Dumpling
Pumpkins that look like Sweet Dumplings are a type of winter squash. As the name suggests, they can be eaten and are primarily used in cooking. Sweet Dumpling pumpkins have flesh that is soft and very sweet.
Pumpkins from the Sweet Dumpling variety are white or bone-white with dark green spots. Sometimes they have orange spots on them. The diameter of a Sweet Dumpling pumpkin is about 4 to 5 inches.
33. Treasure Mini Pumpkin
Introducing the Treasure Mini Pumpkin, a new hybrid miniature pumpkin variety with a smooth and rich orange rind." Pumpkins are about a pound each, and their rinds are extremely tough. A flattened pumpkin with wide shallow ribs that are very smooth is what you'll find in this variety.
34. Wee-Be-Little Mini Pumpkin
This miniature actual pumpkin yields fruit measuring 3 to 3 1/2 inches in width and height. A winner of the All-America Selections competition, these plants are bushy and compact and produce distinctive ornamental pumpkins. It also has a delicious flavor. Try cutting off the top, removing the seeds and pulp, filling with pumpkin pie, and baking at 350 degrees for 25 to 30 minutes. Individual desserts for a harvest celebration.