Where To Plant Iris? Choose the Best Place to Grow Your Own!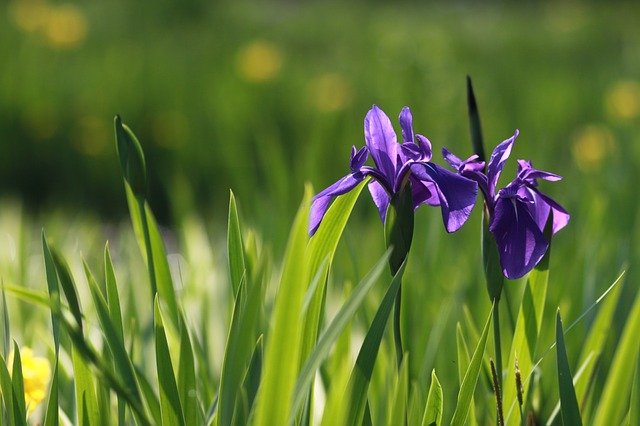 There are many places to plant iris, but the best place may depend on your climate and soil type. If you live in a temperate climate, you may want to plant iris in the garden or a pot on the patio. If you live in a southern area, iris may do well in a garden near the water or a pot near a sunny window. If you live in an area with irrigated land, you can plant iris in a pond or stream. Of course, you can also grow iris indoors during the winter months.
Be sure to consult your local nursery or extension service for specific planting instructions. Once you have chosen a location, purchase your iris bulbs (or seed) and begin planting! Be sure to water the bulbs regularly and fertilize them with a balanced fertilizer every two weeks during the growing season. When the iris flowers, be sure to enjoy the show!
Site Selection and Preparation For Planting Iris
It is best to grow irises in full sunlight for them to thrive. Even a half-worth day of sun isn't ideal for them, but they can get away with it. A lack of light will prevent them from blooming.
Other plants should not overshadow bearded irises; some thrive best in a separate bed.
They like soil that is fertile, neutral, or slightly acidic.
Every season, it's important to have good drainage. Iris plants like "wet feet, but dry knees." They won't be able to live in wet soil in the winter.
Till the soil to a depth of 12 to 15 inches with a tiller or a garden fork, then add a 2- to 4-inch layer of compost and mix it in.
Iris Hardiness Zone
Most Iris varieties grow from Zone 3-9.
Zone 3-9- Siberian Iris and Japanese Iris. The temperature ranges from -40°F to 30°F (-40°C to -1.1°C) Tis irises are hardy winter areas.
Zone 4-9- Bearded Iris. The temperature ranges from -30°F to 30°F (-34.4°C to -1.16C).
Zone 5-9- Iris reticulata and Dutch Iris. The temperature ranges from -20°F to 30°F (-28.9°C to -1.1°C)
Zone 6-9-Louisiana Irises. The temperature ranges from -10°F to 30°F (-23.3°C to -1.1°C)
Where to Plant: Iris in Landscape Gardens
Cutting Gardens
Irises of any variety make lovely arrangements when cut. Even though each flower only lasts for a few days, each stem usually has multiple buds and can produce flowers for a week or more.
Dry Areas and Rock Gardens
Once they have finished flowering, bearded iris plants go dormant, and their rhizomes should be kept as warm and dry as possible during the winter. Ideally, you want to plant them where the soil is loose and quick-draining; this could be along a sidewalk or in a less-than-ideal location.
Perennial Gardens
Bearded irises are a traditional choice. In early summer, they bloom around the same time as peonies, poppies, lupine, and dianthus. Mixed perennial gardens can also benefit from Siberian irises. While the flowers are not in bloom, the plants' grassy foliage makes a strong vertical statement even when not in bloom.
Nature-Inspired Gardening
Perennial grasses, sedum, rudbeckia, and other low-maintenance naturalistic plants pair well with Siberian Iris. Japanese or Louisiana irises can adorn the banks of ponds and streams. Both thrive in consistently moist soil and require little to no attention.
Wetland Areas
Siberian iris require plenty of water to establish themselves for the first year or two, but after that, the plants become extremely drought resistant. Poor soil and wet and dry spells are no problem for them.
The Best Time to Plant Irises
There is a good reason why iris are typically shipped from growers in the United States in August and September. During late summer and early autumn, the best time to plant iris is
Gardeners can now plant their rhizomes before a hard freeze harms their plants' ability to establish roots.
The Iris in your garden should also be dug up and divided.
It is important to plant them correctly to get the most out of your newly purchased or grown Iris rhizomes. Your plants will be thriving and full of blooms the following Spring as long as you take care of them now.