When To Plant Pumpkins Seeds? Know the Best Time to Plant!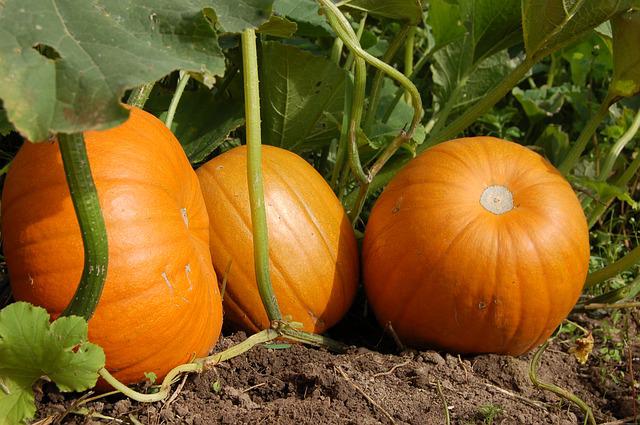 Since pumpkins take a long time to grow, you should plant them as soon as possible. This is one of the best vegetable garden ideas. The best time to plant pumpkins depends on where you live and the hardiness zone. You may want to plant pumpkins in the spring if you live in a warmer area. Depending on the variety and maturation time, the best time to plant pumpkins in many regions is in April and June. However, this is only a guideline. But don't you know that the seeds of pumpkins are considered legumes? The plants in the legume family make pods with seeds inside.
Your soil should be at least 70°F (21.1°C) for at least two weeks before planting your garden. Check the seed packet for your zone's recommended planting time. You can also use your zip code to determine when it will frost in the United States. 
Timing Considerations for Planting Pumpkins
Several factors must be considered to determine the best time to plant pumpkins. In this article, I'll go into greater detail about these factors. Still, this initial bulleted list will give you many considerations for pumpkin planting timing.
Soil Temperature- Pumpkin seeds may rot or fail to germinate in cold soil. Most pumpkin seeds germinate in soil between 65-85°F (18.3-29.4°C). Early seed planting results in low germination rates and a poor crop. Plant only when the soil temperature reaches that range. A cheap soil thermometer can help you decide when to plant pumpkins. It's best to wait until the soil temperature reaches that target before planting transplants. Otherwise, the transplants will languish.
Air Temperature- The air temperature is also critical when deciding when to plant pumpkins. Light affects how quickly seedlings sprout, though not as important as soil temperature in determining germination rates and times. Cooler air means slower growth. Warmer temperatures promote faster growth. Planting pumpkin transplants on a hot, sunny day can cause transplant shock.
Soil Moisture Level- Prematurely wet spring soils often produce rotten pumpkin seeds. The soil temperature may be within the target range, but a wet spring with waterlogged soil is best avoided. Important in areas with heavy clay soils that are poorly drained. Planting pumpkin seeds or transplants in very dry soil is also not recommended. Pre-water your garden with a hose or sprinkler for several hours before planting. Planting requires moist soil three inches deep.
Frost Dates- The calendar is probably the most common method for determining planting time. The last spring frost date varies by region. No more spring frosts are expected after this date, though Mother Nature can be unpredictable. The last frost date can be April or even March in warmer climates. In colder climates, late May or June. Find out the average last frost date in your growing zone by asking local gardeners or visiting this website! Add two weeks to the date you have in hand. That marks the beginning of the best pumpkin planting season. In colder climates, you should start with transplants rather than seeds. Transplants are the way to go in these short-season climates, where every week counts. Opt for a shorter maturing variety.
Pumpkin Variety-Your pumpkin's variety also plays a role in determining when to plant. A few weeks earlier than others, some pumpkin varieties are ripe. This is important when choosing pumpkin varieties. Consider also whether you're growing pumpkins for eating or for decoration. Importance of ripeness of edible pumpkins vs. decorative pumpkins: Some pumpkins have a thick rind and can ripen on the vine for weeks before rotting. Others have a thinner rind and aren't meant to be stored. Choose a pumpkin with a long shelf life if you want to store it.
Days to Maturity- Sowing pumpkin seeds or transplanting plants into the garden is my #1 factor. Before planting, check the variety's "days to maturity" to ensure your pumpkins are ready. Depending on the variety, maturation times range from 80 to 110 days. That's a month! After that, add two weeks to the date you want to harvest your pumpkins. Remember to include the seeds' time spent in their containers before being planted outdoors if you're growing from transplants. Preferably during the first or second week of June if you want to harvest in early October and grow a 100-day variety like Spartan or Mrs. Wrinkles. Allow two extra weeks to ripen late-forming fruits. Also, remember that ripening slows as the weather cools in the fall. Late-season pumpkins may not be fully colored before the frosts of autumn.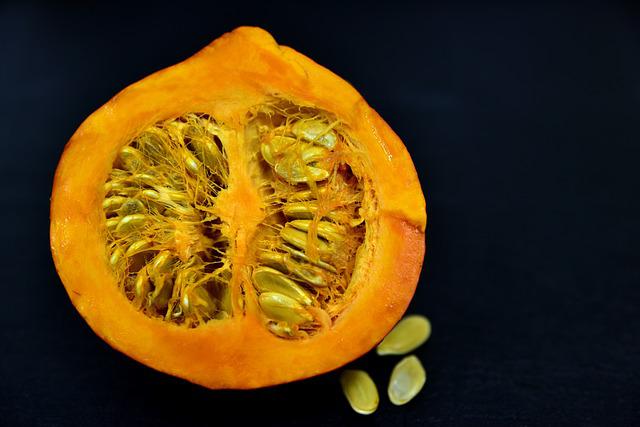 Outdoor Planting Time
Pumpkin seeds can be planted directly outside once the risk of frost has passed. According to Matthew, pumpkin seeds can be planted directly into the soil due to their size and rapid germination.
According to him, "growing pie pumpkins is very similar to growing carving pumpkins" because they both prefer the same kinds of soil and environmental conditions. Both varieties of pumpkins can be planted at the same time.
Indoor Planting Time
You can start the pumpkin seeds indoors when planning greenhouse crops, but they will be ready to transplant in just a few weeks, says Matthew. Chris Rusch of Oregon State University's Douglas County Master Gardeners program recommends starting plants in a greenhouse or cold frame for May transplanting in early April. The strongest plants should be kept. Shannie McCabe advises transplanting them outside before they are three weeks old if you start pumpkin seeds indoors.
How to Keep Pumpkin Seeds for Next Year
Cut the top of your Pumpkin off and scoop out the pulp with your hands. This task is best accomplished with a large spoon.
Using your fingers, separate the seeds from the pulp, and then place the seeds in a colander and rinse under cool water. Make an effort to remove as much pulp from each seed as possible.
Take your time inspecting the clean seeds and separating them into groups based on size. Larger seeds are more likely to germinate and grow into healthy vines.
Spread the seeds out on a sheet of wax paper and allow them to dry overnight before storing them. Because pumpkin seeds are sticky, wax paper is the best material for the initial drying period.
Once the seeds have dried, spread them out on a baking sheet lined with paper towels. Stack the pumpkin seeds on a baking sheet.
Maintain a cool, dark environment for at least one month after placing the tray. Because of this, the seeds can dry out completely.
After a month, please go through the seeds and throw out any mold or mildew on them. Put the good seeds in an envelope and seal them. They can be kept in the envelope until the following year's planting season.
Are Pumpkin Seeds Safe To Plant Straight From The Pumpkin That You Purchased?
It's generally not good to plant a Pumpkin seed right out of the Pumpkin itself. Because not all seeds are ready for germination immediately after being removed from the fruit, this is the reason.
The seeds contain growth inhibitors to prevent Pumpkin seeds from germinating as soon as they are exposed to moist conditions. This is critical as it increases the likelihood that a seed will germinate and grow into a plant in an environment most conducive to survival. Seeds cannot germinate in the Pumpkin's moist interior because of the substance.
To remove any seed inhibitors on the surface, it is recommended that seeds be washed before planting to remove any pumpkin pulp or flesh. After thoroughly drying the seed, use sandpaper for scratching the seed's sides and ends. The seed's outer shell will be weakened, allowing it to absorb water more readily and the seedling to emerge more quickly from the cell.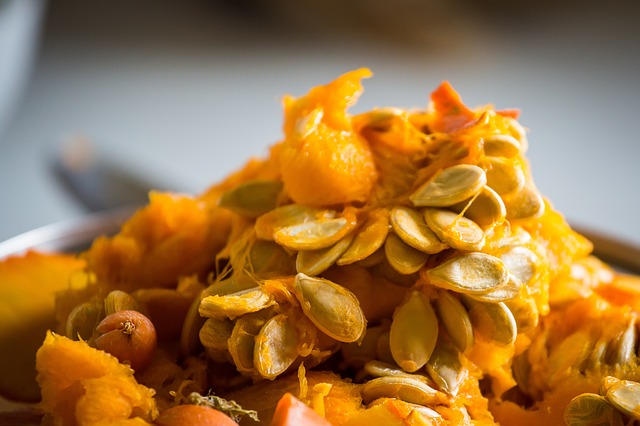 How To Plant Pumpkin Seeds
Starting
Plant the seeds 2cm (1′′) deep. Put three seeds in each spot where you want a plant to grow, and then remove all but the strongest one. Plants should be at least 90-120cm (36-48″) apart, and rows should be 120-180cm (48-72″) apart. If you want to start transplants inside, you might want to use the 12-cell plug inserts.
Growing
The ideal pH is between 6.0-8.0. These big plants need a lot of food. Choose a spot with lots of sun and soil that drains well. Dig in a lot of finished compost or manure that has been composted. Under each plant, dig in 1 cup of organic fertilizer with everything it needs. Male flowers grow first on every Pumpkin, and then the female flowers grow. Bees are needed to pollinate the female flowers, which have tiny fruits at the base of their petals. At the start of the season, it's common for the flowers not to be fully pollinated, making the fruits small and misshapen at the flower end. Throw away these broken fruits before they go bad.
Feed the pumpkin plant weekly with fish or kelp-based fertilizer for the biggest pumpkins. Ensure the big plants get enough water, especially when it's hot. Always water the soil, but don't water it from above except when it rains. If you only keep one fruit on each vine, the fruit will grow bigger. As the fruit grows, gently try to get it to the vine at a right angle. The biggest types of Pumpkin grow on their sides.
References:
Holmberg, K. (2021, September 7). How to Save Pumpkin Seeds to Plant Next Year – Farm Flavor. Farm Flavor; farmflavor.com. https://farmflavor.com/lifestyle/saving-seeds/
MacDonald, M. (2021, April 14). How to Grow Pumpkins from Seed – West Coast Seeds. West Coast Seeds; www.westcoastseeds.com. https://www.westcoastseeds.com/blogs/how-to-grow/grow-pumpkins
Yang, S. (2021, August 16). How to Grow Pumpkins From Seeds | Real Simple. Real Simple; www.realsimple.com. https://www.realsimple.com/holidays-entertaining/holidays/halloween/how-to-plant-pumpkin-seeds
Walliser, J. (2021, June 2). When to Plant Pumpkins From Seeds or Transplants. Savvy Gardening; savvygardening.com. https://savvygardening.com/when-to-plant-pumpkins/
Williams, R. W., & @homesandgardens. (2022, March 19). When to plant pumpkins: for a bumper crop | Homes & Gardens |. Homesandgardens.Com; www.homesandgardens.com. https://www.homesandgardens.com/gardens/when-to-plant-pumpkins
Can I Plant Pumpkin Seeds From a Store-Bought Pumpkin? (2020, September 17). Plan Your Patch; planyourpatch.com. https://planyourpatch.com/can-i-plant-pumpkin-seeds-from-a-store-bought-pumpkin/