When Are Blueberries In Season?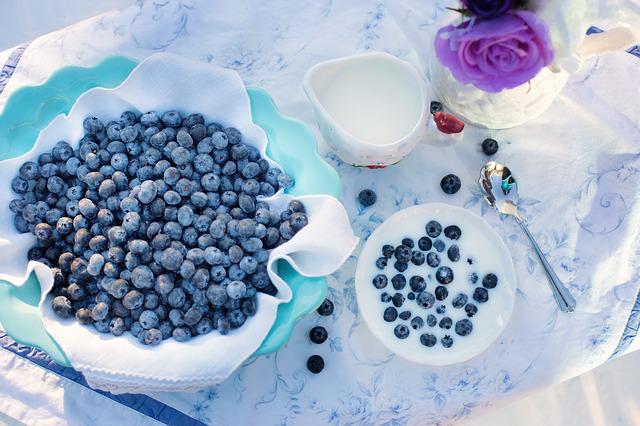 Blueberries are typically ready for picking during the summer months and are harvested from March to September, depending on the state. Florida has the earliest harvest, which begins in late March, and Maine and Idaho have the latest harvest, which concludes in late September. The first harvest should take place two years after the bush has been planted. Pick off the flowers during the first two seasons of the bush's life to aid its establishment. After two years, prune your established blueberry bush to increase its quality and yield. After six years, most blueberry bush varieties reach their peak production.
Ripe blueberries are usually deep blue in color and appear full and plump. Blueberries tinged with purple or red are not fully ripe and will have a sour taste because they are not fully ripe. Even after they have been harvested, the color of these blueberries will continue to darken, but they will not become sweeter. It's critical to pick fully ripe blueberries at their peak flavor. Blueberries are ready to be picked when the entire berry has turned grey-blue in color.
As the berries ripen, they become sweeter, so the best way to tell if the blueberries are ripe is to taste them. You will be able to detect any sourness that may indicate unripe berries in this manner.
Blueberry Harvest Time
FruitInformation.com has provided a complete list of States in alphabetical order below, along with the general harvest time for Blueberries and the "best varieties to grow by State, as certain varieties are better suited to certain temperature zones."
| | | |
| --- | --- | --- |
| State | Blueberry Season | Most Suitable Varieties of Blueberries for Cultivation |
| Alabama | Middle May – Early July | Rabbiteye, Northern Highbush, Southern Highbush |
| Alaska | Late August – Late September | HighBush – Northblue, Northsky |
| Arizona | June – July | Southmoon, Sharpblue, Sunshine Blue |
| Arkansas | June – August | Northern Highbush, Rabbiteye  |
| California | Mid May – Late July | Southern Highbush |
| Colorado | Early June – Late July | Bluegold, Polaris |
| Connecticut | Early July – Mid October | Highbush – Bluegold, Ivanhoe |
| Delaware | Mid June – August | Bluecrop, Lenoir, Nelson |
| Florida | Late March – Late May | Rabbiteye, Southern Highbush |
| Georgia | June – August | Rabbiteye |
| Hawaii | Can flower and grow all year | Misty, Sharpblue, Sunshine Blue |
| Idaho | Mid July – Late August | Patriot, Blueray, Nelson |
| Illinois | July – August | Collins, Patriot, Bluejay, Bluecrop |
| Indiana | June – August | Northern Highbush – Bluecrop |
| Iowa | Mid June – Mid September | Patriot, Blueray, Bluecrop, Rubel |
| Kansas | June – July | Bluecrop, Patriot |
| Kentucky | Early June – Early August | Ozarkblue, Sierra, Nelson, Darrow |
| Louisiana | May – Mid July | Rabbiteyes – Climax, Tifblue, Brightwell, Premier |
| Maine | Late July – Early September | Patriot, Northland, Blueray |
| Maryland | Late June – Early August | Bluetta, Duke, Earliblue, Spartan, Patriot |
| Massachusetts | Mid July – Late August | Bluejay, Duke, Patriot and Spartan |
| Michigan | July – Mid August | Bluecrop, Jersey, Elliott, Duke, Rubel, Bluejay |
| Minnesota | July – Mid August | Chippewa, Northblue, Northland |
| Mississippi | May – August | Rabbiteye – Baldwin, Southern Highbush – O'Neal |
| Missouri | Early June – Early October | Bluejay, Blueray |
| Montana | Late July – End of August | Northland, Patriot  |
| Nebraska | Late July – End of August | Blueray, Bluecrop, Patriot  |
| Nevada | Late July – End of August | Blueray, Patriot, Bluecrop |
| New Hampshire | July – September | Blueray, Bluecrop, Patriot, Earliblue, Jersey, Meader |
| New Jersey | Mid June – Mid August | Bluetta, Blueray, Patriot |
| New Mexico | June – Mid July | Northern Highbush, Southern Highbush |
| New York | Mid June – Early September | Highbush |
| North Carolina | Late June – Early August | Climax, Columbus, Powderblue |
| North Dakota | Mid July – August | Canadian haskaps |
| Ohio | Mid June – End of August | Highbush – Bluecrop, Bluejay |
| Oklahoma | Early June – Late July | Highbush, Rabbiteye, Southern Highbush |
| Oregon | Mid June – Late September | Northern Highbush, Half-High, Rabbiteye |
| Pennsylvania | Late July – Late September | Bluetta, Bluejay, Spartan, Patriot |
| Rhode Island | Early July – Mid October | Earliblue, Blueray, Lateblue |
| South Carolina | Early June – Mid August | Rabbiteye, Southern highbush, Northern highbush |
| South Dakota | Mid July – End of August | Highbush |
| Tennessee | Mid June – Mid August | Rabbiteye – Climax, Highbush – Blueray, Bluecrop |
| Texas | May – July | Rabbiteye – Climax, Powderblue  |
| Utah | Mid July – End of August | Halfhigh – Northblue, Highbush – Blueray |
| Vermont | Mid July – Late August | Northern Highbush, Lowbush |
| Virginia | June – August | Lowbush, Highbush, Rabbiteye |
| Washington | Late June – September | Northern Highbush, Southern Highbush, Rabbiteye |
| West Virginia | Mid July – End of August | Northern Highbush – Spartan, Bluecrop, Jersey |
| Wisconsin | Early July – Mid August | Half High – Northblue, Northsky |
| Wyoming | Mid July – Early September | Honeycrisp, Haralson, McIntosh |