Type of Carnations: Know The Three Main Types Of Carnations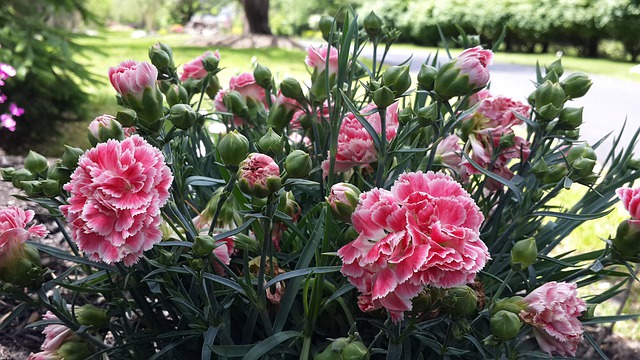 Carnations come in many different shapes and sizes, but they all have one thing in common: they're flowers. This article will discuss the three main types of carnations – Standard, Miniature, and Dwarf Carnations. We'll also explain what makes each type of carnation special and which is best for which occasion. So read on to learn everything you need to know about these beautiful flowers!
Standard or Large Flowered Carnations
These carnations produce a single flower on each stem that can reach a length of approximately 60 centimeters. They tend to be longer-lasting, taller, and narrower, which is ideal for use with cut flowers. They also have various colors and patterns that can stand out in a floral arrangement.
Large Flowered Carnations are typically considered to be beautiful. There are a few reasons for this:
They tend to have larger blossoms that often look fuller and lush, holding their color longer.
Large flocked carnations often have more petals which give them a softer appearance.
Their shape is often more symmetrical, giving the impression of greater beauty and symmetry overall.
They can be very impressive and elegant if you want something that stands out from the rest. Their larger size also requires greater care when shipping or transporting, which may add additional costs to your order.
Large-flowered carnations are currently separated for an organization into two distinct categories:
border carnations, which are fragrant double flowers that grow on stems that are between 16 and 24 inches tall, and are intended for use in outdoor gardens; and
Florist's carnations are fragrant double flowers that grow on stems between 3 and 4 feet tall and are primarily grown in greenhouses to supply the florist trade.
Carnation 'Chabaud Giants Benigna'
Dianthus caryophyllus
Infused with a sweet and spicy clove aroma, vintage carnations are a timeless floral gift. Blossoms that are mostly double but occasionally produce a single. Petals are white to creamy white with a pinkish edge. Grayish or blue-green leaves resemble grass. Cut flower trials showed it to be most productive as an annual blooming in late July and early August. Chabaud is a classic character who has been around since at least 1904. D. caryophyllus is a species of flower that originated in the Mediterranean, where its symbolic meaning was first recognized. A perennial plant is only hardy in zones 6–8 due to its extreme vulnerability.
Petals from edible flowers can be used to decorate savory and sweet dishes and beverages such as salad dressings, ice cream, and whipped cream. It has a mild clove flavor. Flower petals are quite bitter.
Chabaud Carnations:
The ruffled white petals of 'Benigna' are outlined in a deep pink color. It is one of the carnations that produces the strongest fragrance and can be kept as a cut flower for a considerable amount of time in a vase.
The 'Chabaud Orange' variety of rose has full double blossoms with a distinctive cream and orange bi-colored appearance reminiscent of a sunset.
The 'Avranchin' carnation is a bicolored variety that blooms in red and cream and has double, ruffled blossoms.
Miniature or Spray Carnations
This particular variety can produce as many as six individual flowers on a single stem. Only reaching a height of 30 centimeters, as their name might imply, these carnations are considerably shorter than the typical variety. Many different cultivars are available, but some of the most well-known ones are the pink and white Elegance, the scarlet Rony, the white Tibet, and the white and violet Exquisite.
These miniature carnations are spray carnations, meaning each stem bears several blooms. The blooms have ruffled petals that come in various vibrant colors, making them ideal for adding texture and splashes of color to arrangements. Create a jaw-dropping arrangement by combining these hardy blooms with Cremons, Spiders, and Roses. Adding miniature carnations to a bouquet is an excellent way to achieve a textural contrast. They are also great as corsages.
One of the most traditional wedding flower choices is the miniature carnation. The extravagant multi-bloom sprays of Mini Carnations are an excellent way to glam up either conventional or contemporary floral arrangements. The graceful, ruffled blossoms provide texture, beauty, and fragrance. Due to their hardiness, they are an excellent choice for any circumstance where you require a flower that will last for a significant amount of time.
The 'Elegance' variety produces white flowers with pink edging on the petals and each stem bears between five and six dainty flowers.
The name "Tibet" refers to the tiny, pure white blossoms.
The 'Exquisite' flowers have white petals edged in vibrant violet color.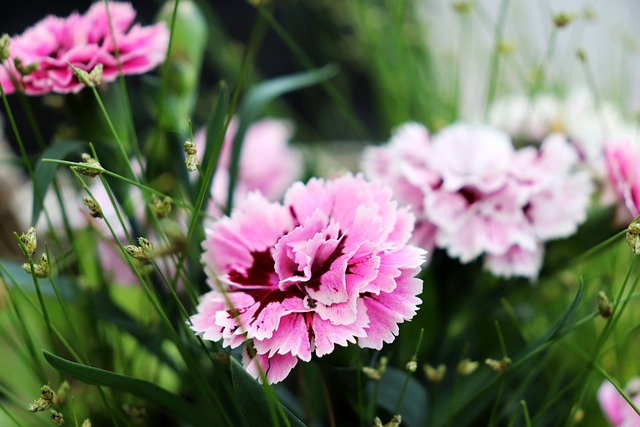 Dwarf Carnations
This type of carnation is also known as a midi. When compared to carnations with large flowers, these have stems that are shorter and flowers that are smaller. They're hardy perennials that can grow up to can reach up to about 25-30 centimeters and, depending on the type of plant they come from. They may bear a single flower or a cluster of flowers.
Dwarf carnations are compact plants with fragrant, fully double flowers that come in a wide range of colors and are fully double. Place your plants in containers or at the front of your borders to appreciate their flowers and fragrance. They're outstanding flowers for cutting. Carnations that grow to be dwarf size are sometimes referred to as border carnations or pinks.
The 'Vienna' variety, which can reach a height of 10–12 inches, is typically sold as a multicolored bouquet. The bouquet may contain pink, salmon, rose, and violet flowers.
Flowers of the 'Superstar' variety are a brilliant red with ruffled edges and grow on stems that are about eight inches tall.