How Tall Are Magnolia Trees?
Magnolia can reach up to 60-80 feet and 40-50 feet spread. There are over 200 different varieties in gardens throughout the United States, Southeast Asia, and South America.
Tall Magnolias
This southern Magnolia tree is hardy and evergreen in plant hardiness zones 6 through 10. It is one of the genus's tallest trees, reaching 60 to 80 feet high and 40 feet wide at its widest point. M. officinalis var. biloba, which grows in USDA zones 5 through 8, can reach heights of 60 to 70 feet and widths of 35 to 50 feet in the same places. One of the cucumber trees in the Magnolia acuminata family is about 60 feet tall and spreads 35 feet wide, so it is called a "cucumber tree." It's a good shade tree in USDA zones 5 through 8. It has clusters of red seed pods to make up for the lack of flowers.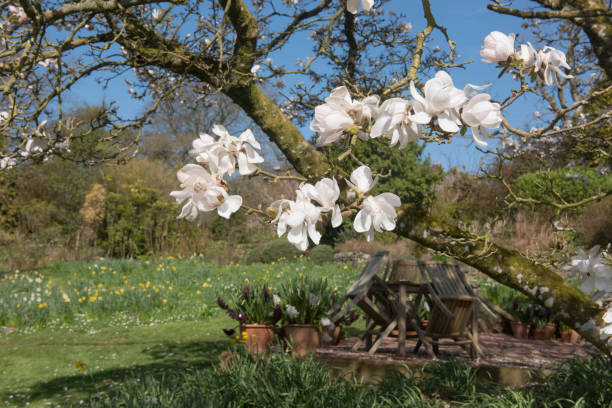 Medium-sized Magnolias
Miss Honeybee is a small-to-medium-sized cucumber tree variety. It has yellow flowers and grows 25 to 40 feet tall, and it is called M. acuminata var. subcordata "Miss Honeybee." Some other hybrid cultivars with yellow flowers, such as "Goldfinch" and "Golden Gift," reach heights of between 35 and 40 feet, and they have yellow flowers. "Gold Star" and "Elizabeth" are two shorter yellow-flowered magnolias that reach 20 to 40 feet. M. macrophylla, which is also called bigleaf Magnolia, grows up to 30 to 40 feet tall and can spread up to 50 feet wide. This is the Yulan magnolia (M. denudata). It grows up to 30 to 40 feet tall and spreads out to about 25 to 30 feet wide. "Little Gem" (M. grandiflora "Little Gem") is the same height and spread as its big Southern cousin. It grows to 30 to 35 feet tall and 8 to 12 feet wide. In zones 7A through 10A, "Little Gem" is hardy.
Small Magnolias
M. 'Ivory Chalice' and M. x loebneri 'Ballerina' are two Magnolia varieties that can grow up to 30 to 50 feet tall. Both of them can be grown in zones 4 through 8. This is one of the many varieties of saucer magnolias (M.x soulangiana) that grow between 15 and 20 feet tall. Saucer varieties like "Rustica Rubra" and "Verbanica" can grow even taller. There are saucer magnolias that can grow in zones 5 through 9. They can grow there.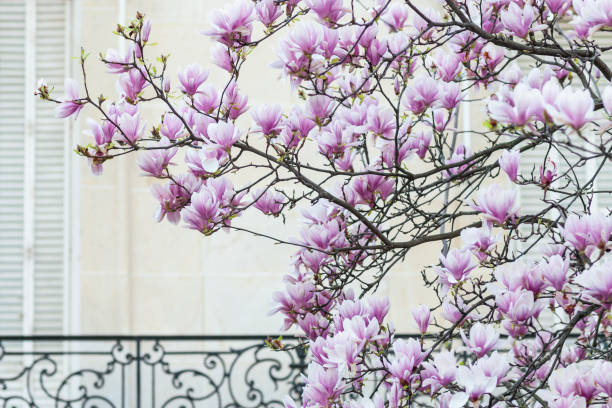 Shrubby Magnolias
The lily-flowered Magnolia (M. liliiflora) is a multi-stemmed shrub that can reach a height of 8 to 12 feet and a spread of 10 to 12 feet. "Susan" (M. x "Susan") and "Nigra" (M. liliiflora "Nigra") grow in USDA zones 4 through 8 and 6 through 9, respectively. Bushy growth and stem clusters characterize the star magnolia. In its mature state, the "Water Lily" (M. stellata "Water Lily") can grow as tall as 15 meters (50 feet) and as wide as 20 meters (66 feet).
Magnolia Trees of Various Sizes
| | | | |
| --- | --- | --- | --- |
| Magnolia Varieties | Maturity Height | Maturity Spread | Growth Rate |
| Anise Magnolia | 30-50 feet | 30-50 feet | moderate, growing 1-2 feet per year |
| Ann Magnolia | 8-10 feet | 8-10 feet | moderate, 1-2  feet  per year |
| Alexandrina Magnolia | 20-30 feet | 30 feet | moderate, growing 1-2 per year |
| Ashe's Magnolia | 15-25 feet | 25 feet | moderate to fast |
| Ballerina  Magnolia | 15-20 feet | 15 feet | moderate |
| Bigleaf Magnolia | 40 feet | 40 feet | moderate |
| Black Lily Magnolia | 8-12 feet | 8-12 feet | slow |
| Black Tulip Magnolia | 15-20 feet | 6-10 feet | fast |
| Genie Magnolia | 10-13 feet | 5-6 feet | moderate |
| Kobus Magnolia | 50 feet | 35 feet | slow, growing 1 foot per year |
| Jane Magnolia | 10-15 feet | 8-12 feet | slow, 1 foot or less per year |
| Lily Magnolia | 12  feet | 8-12 feet | slow, growing 1 foot per year |
| Little Gem Magnolia | 15-20 feet | 7-10 feet | slow to moderate |
| Magnolia 'Elizabeth' | 20-40 feet | 12-20 feet | moderate |
| Magnolia  'Encore' | 8-15 feet | 6-15 feet | slow |
| Magnolia 'Ivory Chalice' | 30 to 50 feet | 25-35 feet | fast |
| Magnolia 'Goldfinch' | 35-40 feet | 30-35 feet | moderate |
| Magnolia 'Golden Gift' | 35-40 feet | 15-20 feet | moderate |
| Magnolia 'Gold Star' | 20-40 feet | 20-30 feet | moderate,2 feet per  year |
| Magnolia 'Leonard Messel' | 15-20 feet | 10-15 feet | slow |
| Magnolia 'Miss Honeybee' | 25-40 feet | 15-20 feet | very slow to moderate |
| Oyama Magnolia | 10-15 feet | 10-15 feet | moderate |
| Pinkie Magnolia | 10-15 feet | 8-12 feet | moderate |
| Saucer Magnolia | 20-30 feet | 25 feet | moderate, growing 1-2 feet per year |
| Southern Magnolia | 80 feet | 40 feet | slow to moderate, height increases less than 1-2 feet per year |
| Star Magnolia 'Centennial' | 20 feet | 10-15 feet | moderate to fast, 1-2 feet per year |
| Star Magnolia 'Jane Platt' | 10-15 feet | 8-12 feet | slow, 1 foot per year |
| Star Magnolia 'Royal Star' | 10-20 feet | 8-15 feet | moderate, growing 1-2 feet per year |
| Sweetbay Magnolia | 10-35 feet | 10-20 feet | moderate to fast, 1-2 ft per year |
| Sunsation Magnolia | 20-25 feet | 6-8 feet | moderate |
| Susan Magnolia | 8-12 feet | 8-12 feet | slow to moderate |
| Umbrella Magnolia | 15-30 feet | 15-35 feet | slow to moderate |
| Vulcan Magnolia | 10-15 feet | 8-10 feet | moderate |
| Water Lily Magnolia | 10-20 feet | 15-20 feet | slow, growing 1 foot per year |
| Yulan Magnolia | 30-40 feet | 30-40 feet | slow to fast |