Scientific Name: Gardenia jasminoides 'Radicans'
Common Name: Cape Jasmine, Dwarf Gardenia, Miniature Gardenia, Creeping Gardenia, Trailing Gardenia
Family: Rubiaceae
Plant Type: Evergreen Flowering Groundcover Shrub
Life Cycle: Perennial
Size at Maturity: 1-2 ft high, 3-4 ft spread
Growth Habit / Form: Creeping, Bushy/Dense, Mounding, Spreading
Growth Rate: Medium; up to 1ft
Light Exposure: Morning Sun with Afternoon Shade or Filtered Sun, All Day Filtered Sun
Wildlife Value: Gardenia's hips attract birds and other wildlife.
Features: Fragrant Flowers
Blooming Period: Spring-Summer
Resistances: Deer, Drought (when established), Heat, Humidity, Insect
Maintenance / Care: Low
USDA Plant Hardiness Zone: 8-11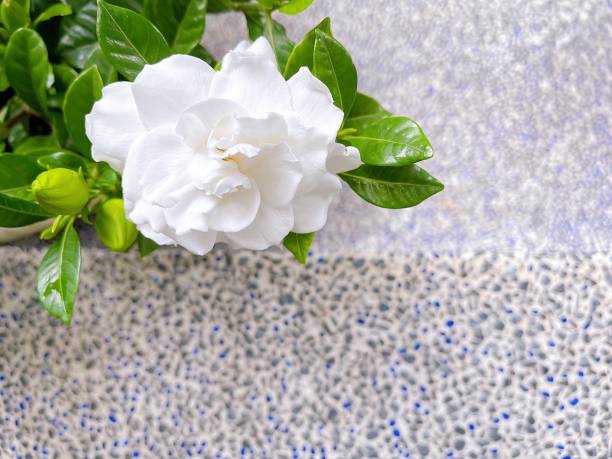 History and Origins
The Gardenia Radicans is a variety of the common gardenia that has been chosen for its beauty (Gardenia jasminoides). It was during the Song Dynasty that this plant was first cultivated in China, about 3,000 years ago. Dr. James Gordon, a Scotsman who had settled in Charleston in 1752, was the first person to cultivate it in the United States. He was a botanist as well as a gardener, and the famed botanist Linnaeus named this plant after him in honor of his accomplishments. Dr. Gordon had introduced gardenias to his Charleston garden about 1762, and it is possible that many of the old plants in the southern United States are descended from that initial plant.
Gardenias, on the other hand, were very popular in the southern hemisphere and eventually migrated to Europe. It was common to see them everywhere throughout the 1920s and 1930s, particularly corsages, and they came to represent the spirit of summer in the South.
Description
Cape jasmine 'Radicans' is a small perennial blooming plant of the Rubiaceae family (madder, bedstraw, and coffee). Southern China, Vietnam, Japan, and Taiwan. A jasminoides plant is closely related to the Jasmine Vine. The root structure forms a compact, spherical mass with long tapering rhizomes. This gardenia's habit is low and spreading with a dwarf habit. The fragrant white blossoms are smaller than the parent plant. Pruning dead blossoms promote rebloom. Stunning late spring blooms with intermittent summer blooms. Gardenia's orange fruits attract birds in the autumn.
Flowers
'Radicans' Gardenia jasminoides are soft-creeping miniatures with strong fragrant flowers. Mid-Spring to Early Autumn are the best times to see these white to creamy color, semi-double, waxy flowers in bloom. The inflorescence is solitary. The flower shape is obovate, radial with 7-20 rays or petals. It reaches 1-3 inches. For an extended length of time, one plant may produce hundreds of small fragrant blooms that continue to develop far into the fall months on a single stem. Dwarf gardenias are available more than once throughout most seasons inside, but they should be planted in a sunny position if they are to thrive outside.
Fruit
The berry is ovate-shaped and measures 1.5 inches long by less than an inch wide. An orange-tinged six-ribbed structure with a dark green base. Fall is the prime time for harvest.
Leaves
Gardenia is a broadleaf evergreen plant. It has glossy, coriaceous, and waxy dark green, dull and lighter green below, veins impressed and rib-like below, glabrous foliage. Variegation is possible on this up to 4″ long by 1 1/4″ broad, elliptical shape with an acuminate tip. Depending on their varieties, they have cuneate, elliptical, lanceolate, linear, oblong, ovate leaf shape with the opposite or whorled arrangement, entire margin. The leaf usually grows 1-3 inches with less than 1 inch.
Stem
The stem is odorless Stems are long, upright, and have a double leaf. Stem pairs with opposite leaves. The stem's thickness is stated as 0.5″-1″. The stem is usually straight, erect, and glabrous. The color turns from green to brown or pith light green to whitish brown. Buds resemble barber poles with their spiraled shape.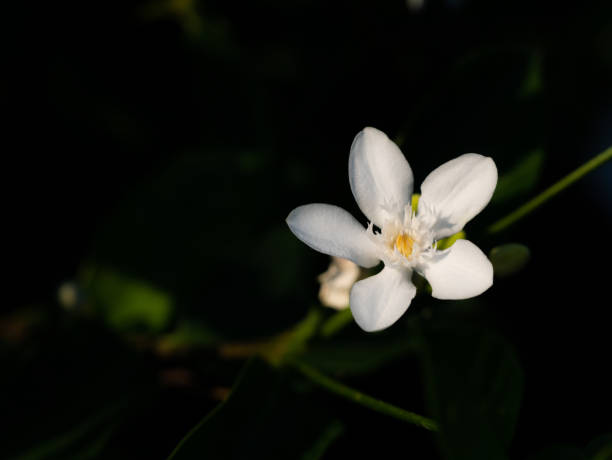 Planting & Care
Planting
Creeping gardenia plants need the same care and placement as larger ones. Gardenias are tropical and subtropical plants that cannot tolerate cold temperatures. Following expert suggestions will help you prevent frequent small gardenia care errors. Gardenia care begins with proper installation and placement. Planting Gardenia Radicans requires careful consideration of the site and environmental circumstances in which the new plants should grow. Gardenias bloom best in the spring and autumn, although they may be planted any time of year. When it comes to planting, you can plant at any time of the year as long as you avoid freezing and extremely hot temperatures.
Sunlight Requirement
They can also grow in areas that get a lot of sunlight, but not all the time. Those living in the north should plan their gardens with full to partial sunlight in mind, with about 4-8 hours of sunlight each day. Some parts of the country get full sun, while others get a little shade, with 3-6 hours of direct sunlight each day. Radicans can be grown in a lot of different ways. The greatest place to grow inside is beside a south-facing window.
Watering
 Ground-planted trees should be watered once a week unless it rains. It's always best to dig 1-2 inches into the soil surrounding your plants if you're not sure when they need watering. When the soil dries down to this depth, water your tree.
Water your container-planted Dwarf Radicans until the drainage holes are full with water, then check the soil again at the same depth. If you'd like, you may use a spray bottle to moisten your tree.
Soil
Trailing gardenia thrives on highly organic well-drained soil with 4.5-6.0 acidity. The plant will thrive in a well-drained, nutrient-rich, and acidic soil if it is combined with peat moss. Acidify your soil using compost, sulfur, or acid-loving plant fertilizers. Casters make it easy to move containers in and out of storage throughout the year.
In pots, make sure it has drainage holes. Fill your container with organic potting soil. If your soil is alkaline, modify it. Leaves will become yellow if the soil is overly alkaline. If you live in an area where it gets chilly in the winter, you'll need to protect it from the wind.
Humidity
The breakdown of pine straws will be beneficial in the long term, but it is not a quick fix. Improve drainage by aerating and adding compost to thick clay soil before planting. Keep the soil wet, but not soggy, throughout the summer and the first year after planting. After the first year of planting, the soil should be allowed to completely dry out between irrigations. If you live in a hot, dry climate, spray your gardenia's leaves daily or every other day. Gardenias benefit from a 2-inch layer of mulch. Mulching conserves water and shields your plant from the elements.
Temperature
Plants that thrive in the tropical and subtropical regions demand a mild temperature with little risk of frost. Despite the fact that tiny gardenias need the same amount of care as other varieties, the cold is more likely to harm them. Temperatures of 65-70° Fahrenheit (18-21° C) are ideal for them throughout the day.
A cardboard box or bubble wrap over the stems can keep a small gardenia from freezing, even in a hardy climate. With winter, wrap the box or plant in rags or mulch. Cut down cold-weather stems.
Fertilizing
From April to November, fertilize your creeping gardenia once every three to four weeks. 30-10-10 is a good nitrogen-rich formula. Acidic fertilizer should be applied to the soil every year. Cut back the plant when it has finished blooming. In times of extreme heat or drought, Radicans benefit from irrigation, despite their drought and heat tolerance. Once in the spring, fertilize with our six-month slow-release fertilizer. Gardenias do not need trimming, however, pruning after they bloom may assist stimulate bushier growth and rejuvenate an older plant. At any moment, prune dead or crowded branches. Avoid vigorous pruning or shaping pruning from autumn to spring, since buds grow in the fall.
Pruning
The optimum time to trim gardenias is after they have bloomed in the summer. The miniature plant should be cleared of any deceased or fractured parts, and any flower-dead branches should be pruned down. At this point, remove any stems that are crowded or crossed to allow more light and air to reach the heart of the plant. This will reduce the spread of fungus and promote flowering. A granular time-release fertilizer or an acidic fertilizer should be applied to in-ground plants after they have finished blooming. Dwarf gardenia maintenance is simple after the bushes have been established, and the fragrant blooms will continue to bloom year after year.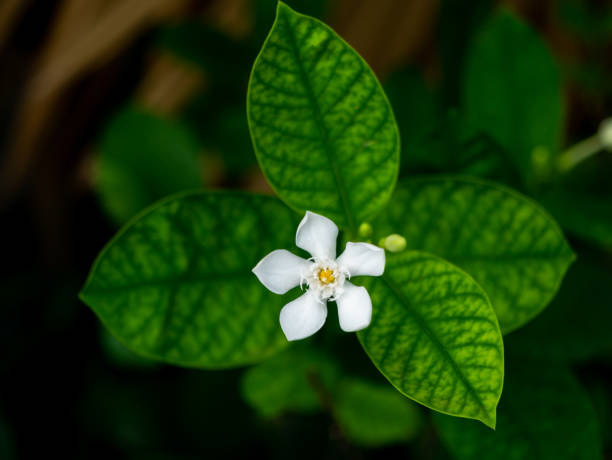 Dwarf Gardenia in Pots
In the spring, feed containerized plants every two weeks, but by the summer, cease. In the winter, these plants will be a bit dryer than those growing in the ground. To keep your container secure, place it someplace well-lit but not too bright. No drafting, either. Keep the plant wet at all times with a misting system or a water dish nearby. This will benefit the plant.
Dwarf Gardenias can be grown in pots. During the day, gardenias need temperatures between 65-70° F (18-21° C). At night, they need temperatures between 60 -65 °F (18 and 21 degrees C) (15-18°C.). People often grow gardenias in small pots because they want them to be easy to care for. The Miniature Radicans is drought-tolerant and cold-tolerant to 10 degrees Fahrenheit once established.
Insects, Diseases, and Other Plant Problems
Aphids, mealybugs, scale, and spider mites are all insects that may be bothersome. Crop diseases include powdery mildew, leaf spot, and sooty mold. Plants that are well-cared-for are more resistant to disease and pests. The location, irrigation, and fertilizer all play a role in your success. To combat aphid and scale infestation, use neem oil or an insecticide soap. Severe infections may need the use of pesticides such as carbaryl (Sevin). Disease-resistant, the Gardenia Radicans won't need to be pruned and worry about fungus.
How To Propagate Miniature Gardenia
You can propagate this dwarf cultivar using the same methods as its parent plant. Cuttings tend to be the most popular method, although it's also possible to harvest the orange fruit for planting. Dwarf Gardenias can be propagated from seed as well. Plant your seeds in pots and keep them warm until they sprout, then set out plants every two weeks following germination (keep trees away from the cats).
Landscape Ideas
The Gardenia Radicans is a small shrub that can fit in most places. As a border, ground cover, ground cover with an accent, or container plant, this gardenia is great. It is also a good foundation plant, low-hedge ground cover, or border plant. It is only 3 to 4feet wide and 1 to 2 feet tall and features fragrant double blossoms. This plant can be placed next to a patio or walkway so that you can fully enjoy its large and fragrant blooms. It also goes well in slop or bank areas.
The Dwarf Radicans Gardenia is great for small gardens because it can be used as a low border or in a container. It has glossy green leaves, full flowers, and an intoxicating scent. If you have a small garden, the Radicans Dwarf Gardenia is a great plant to have as a focal point put in pots and other containers. This will infuse your environment with romance and elegance. It is great for use in groups or group plantings as a groundcover or as an underplanting in larger landscaping settings.
To hide a view or add an aesthetic element to a garden or landscaping project, low-growing, wide-spreading branches are appropriate. This kind of plant may be used to create atop walls, fencing, and other elements of the urban environment. For growth reasons, indoor containers are the best option available. Its attractive leaves, which remain green throughout the year and develop a bright yellow fluff in the spring before blooming just a short time later, and spectacular beauty make it an excellent choice for containers. In terms of topiary trees for little places, they're ideal.
Gardenia 'Mini' flower more profusely and are best suited for placement at the front of outdoor garden sites or borders (with care) against walls, where they lend visual appeal to patios away from trees that provide shade. Micro gardenias form wonderful little specimen elms that repeat fast in the landscape. They may also be used as soft maillées for low care screening, as well as hedge plants with resilience for low maintenance garden and container plants that are a treat in any spring season. When in bloom, dwarf Gardenias may last up to four months, making them one of the most long-lasting perennials.
Suggested Spacing: 3 feet apart for a group planting; 5'-6' feet apart, as measured from the center of each plant
Landscape Theme: Asian Garden Cottage, Garden for the Visual impairments, Night Garden, Pollinator Garden
Design Feature: Border, Foundation Planting, Mass Planting, Small groups, accent planting, container planting
Attracts: Bees, Songbirds
Buying Dwarf Radicans Gardenias
Most gardeners grow them in pots, so if ordering online to make sure they arrive healthy and well-rooted. Another option is plant gardens at local nurseries that specialize in container plants. At nurseries, you'll be able to get plants that are already growing when they arrive. If a plant comes to bare rooted this may better your success if the room is tight in the container. However, garden centers can ship healthy root balled plants (but not roots) which should easily survive shipping three miles or more from any nursery back home with no problems. Garden Center Shippers provide insurance for $35 or about half of the overall purchase price.
You can buy miniature gardenia in the following online stores:
FastGrowingTrees.com Price: $24.95
BrighterBlooms.com Price: $24.99
PlantingTree.com Price: $49.99
NatureHills.com Price: $24.39
PlantsbyMail.com Price: $18.99
TheTreeCenter.com Price: $29.50
MyPerfectPlants.com Price: $29.99
WilsonsBrosGardens.com Price: $59.97
GardenGoodsDirect.com Price: $33.95