Dahlia Size Chart | Know the Types and Sizes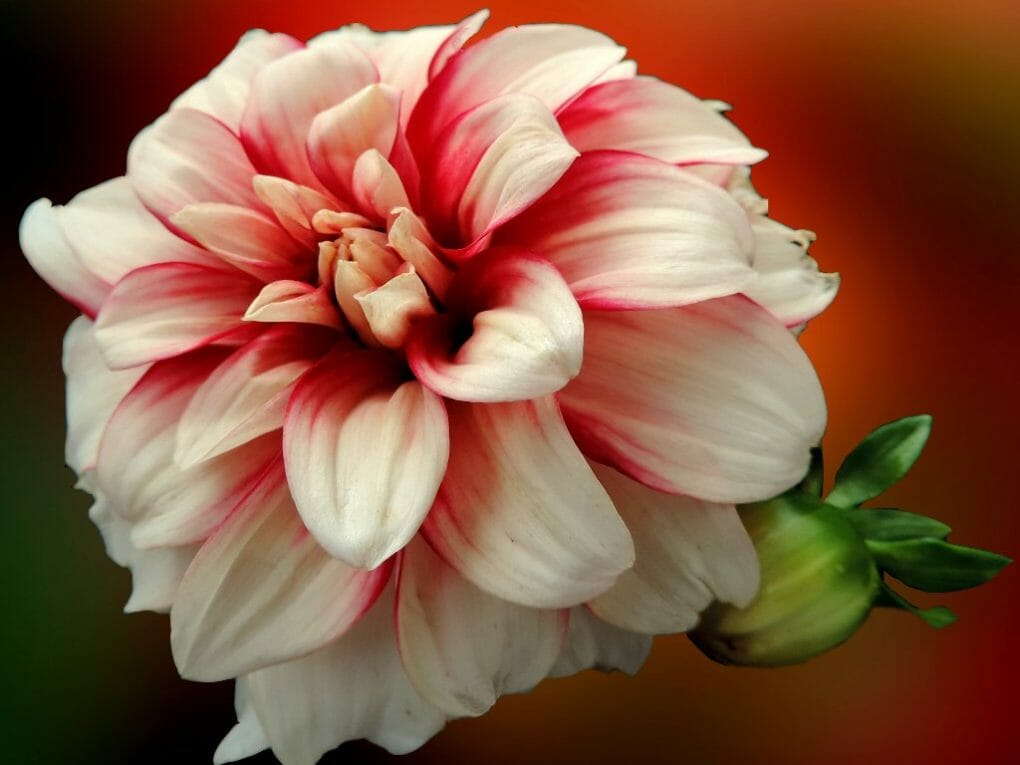 Welcome to our Dahlia Size Chart! In this article, we will provide information on dahlias' different types and sizes. If you're planning on buying a Dahlia flower, it's important to know the types and sizes of dahlias to make the best purchase for your needs. In this article, we'll outline the different types of dahlias, and the different size ranges for each. We'll also provide a chart that details the size of each dahlia type and the corresponding size range. So whether you're looking to buy a single dahlia or a bouquet of dahlias, this guide will have everything you need!
Size Types
There are many different dahlias, each with unique features and requirements. If you're looking to buy a dahlia, it's essential to understand the different size types to choose the right one for your garden. Here are the three main size types and what they mean for you as a gardener.
Large Dahlias
They grow between 3 and 4 feet tall. The best-known dahlias in this size range are dinnerplate dahlias, which have double flowers that are 10 to 12 inches across. The best place to grow these is in the back of perennial beds with other big perennials. They put on a beautiful show in late summer and early fall, but they will need some support to stand up to rain and wind in the summer.
Medium-to-Low Height Dahlias
These compact 1- to 2-foot-tall plants are also called border dahlias. These dahlias look great at the front of a perennial bed with phlox, asters, and other late-blooming perennials. Also, you can grow border dahlias in containers. Try cactus-flower dahlias, which have petals that are rolled uniquely.
Smallest Bedding Dahlias
They would look great in window boxes. These 10–20-inch plants bloom for a long time and stay close together. You can also put them in pots and planters or along the edge of a border.
Dahlia Types and Sizes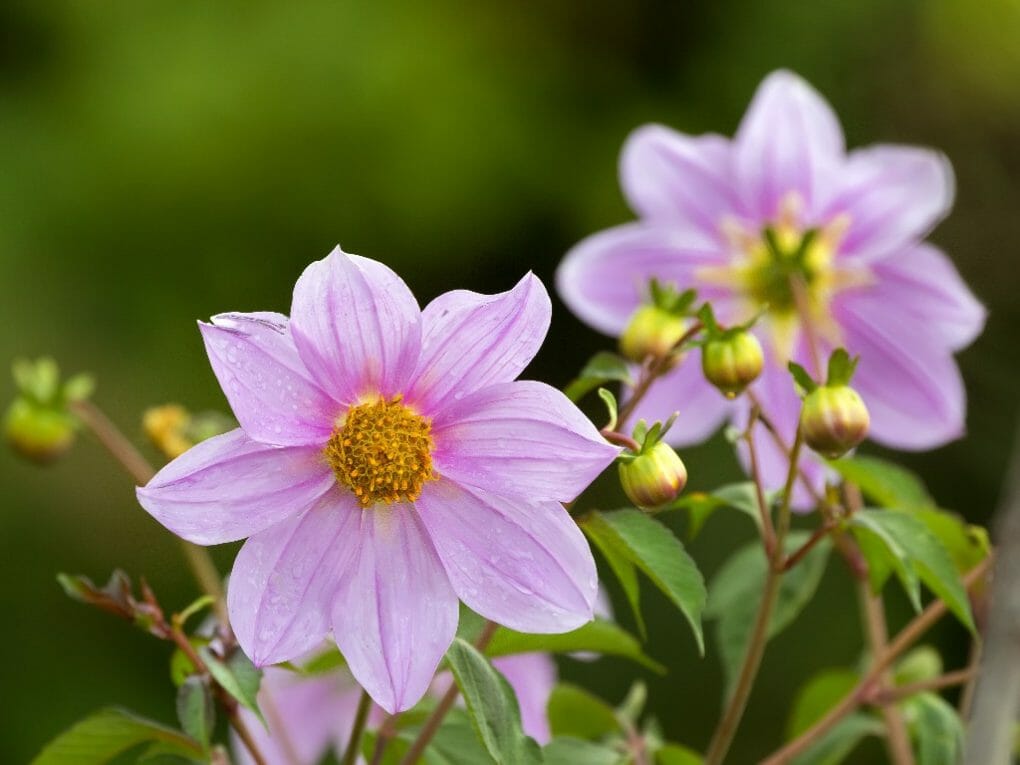 Dinnerplate Dahlias
Bloom: 8+ inches
These dahlias are perfect for you if you're a fan of extra-large blossoms. Dinnerplate dahlias can reach heights of 4 to 5 feet and have blooms as wide as 10 inches. Because of their size, these plants require a sizable plot of land to flourish.
You can grow dinnerplate dahlias in the back of a flower bed, against a fence or shed, or even in the vegetable garden. Be sure to stake the plants when you first put them in the ground, and then tie in the stems as they grow to help support the heavy flower heads.
Sample Varieties: Café Au Lait, Noordwijks Glorie, Otto's Thrill, Thomas Edison, Vancouver
Decorative Dahlias
Bloom: 4-8 inches
This group of dahlias is the biggest and has the most colors and styles. The petals of a flower are either flat or slightly rolled. Cut dahlias look great and are an important part of any cutting garden. Most of them grow in a bushy way, which makes them good for perennial gardens and big pots. The blooms range from 4-8 inches.
Sample Varieties: Arabian Night, Karma Lagoon, Labyrinth, Procyon, and White Onesta
Ball and Pom Pon Dahlias
Bloom: 3-4 inches
The petals of these bright, perfectly spherical flowers are tightly rolled into a honeycomb pattern. Due to their construction, these flowers last significantly longer than those of any other variety of dahlia. Furthermore, the plants are highly productive. Throughout the season, they will reliably produce a wealth of blooms.
In terms of size, ball dahlias are the more common of the two. Their flowers' 3–4-inch diameter makes them ideal for loose bouquets. Only one to two inches in diameter, Pom Pon dahlias are adorable. They add personality to smaller hand-tied bouquets and a splash of color and texture to more substantial displays.
Sample Varieties: Boom Boom Red, Stolz von Berlin, Franz Kafka, Rocco
Anemone-Flowered and Collarette Dahlias
Bloom: 3-4 inches
These blooms typically have more than one color and have lots of interesting textures to explore. There is a pincushion of tubular florets in the middle of an anemone-flowered variety, surrounded by several rows of more conventional petals. Collarette dahlias have two rows of petals, the outer row of which is the standard length and the inner row of which is shorter and more frilly.
Since their blooms complement other flowers, these dahlias are frequently used in bouquets. The abundant flowers attract numerous pollinators, such as bees and butterflies. They typically only grow to be about 2 or 3 feet tall, making them somewhat shorter than most dahlias. They thrive in confined spaces, so they're ideal for smaller gardens and planters.
Sample Varieties: Edge of Joy, Lifestyle, Purple Haze
Cactus and Semi-Cactus
Bloom: 4-8 inches
These are among the most stunning varieties. The origin of these prickly flowers can be traced back to the Netherlands in 1872 when a shipment of tubers was shipped there.
Many of the most stunning dahlias are cactus and semi-cactus varieties. Because of their star shape, these dahlias are more resistant to the smothering effects of heavy rain than other varieties. Their lighter flower heads also require less staking than other kinds. They're lovely as a bouquet, too.
Full double in form, the petals of a cactus dahlia are narrow from tip to base and typically curl inward. Sizes vary greatly, from very little to very large.
Sample Varieties: Alauna Clair-Obscur, Karma Corona, Nuit d'Ete, and Yellow Star
Waterlily
Bloom: 3-4 inches
Relatively flat profile, with tightly closed centers and many rows of petals that are either flat or slightly curved. Exquisite flowers in the shape of waterlilies are an absolute necessity if you value taking a more "elegant approach." They bloom for an extended period, have lush foliage, are easy to care for, and are available in various colors, shapes, and sizes. Ideal for use in garden beds and pots and for producing cut flowers that hold up well in vases.
Sample Varieties: Serkan and Priceless Pink
Single
Bloom: 3-5 inches
Flower-like daisies have a single row of petals around a large core. Bees and butterflies frequent it in large numbers. However, bees and other pollinators don't get much from these complicated flowers. On the other hand, pollinators love single-flowered dahlias. With fewer petals and reproductive parts on display, bees, butterflies, and other insects can easily get to the pollen and nectar of the flowers, and the flowers don't look any less beautiful. They look great in the garden and are good for wildlife as well.
Sample Varieties: HS Date and HS Flame
Peony-Flowered
Bloom: 3-5 inches
At least two layers of petals encircle a conspicuous core resembling a daisy. Semi-double flowers have an open center and two to three rows of twisted or curled petals (4-5″ / 10-13 cm). The bright, vibrant blooms look fantastic against the dark, bronze-purple, or burgundy foliage that most types have.
Sample Varieties: Fascination, Bishop of Llandaff, Bishop of Canterbury
Border
Bloom: 2-5 inches
Smaller in stature, border dahlias are ideal for containers. They are only around 15 to 20 inches tall, so they look great in front of a flower garden, along a walkway, or in a container. Remember that height isn't everything. These short-statured dahlias are just as full of life and vitality as their taller relatives.
Sample Varieties: Gallery Art Deco, Gallery Bellini, Gallery Pablo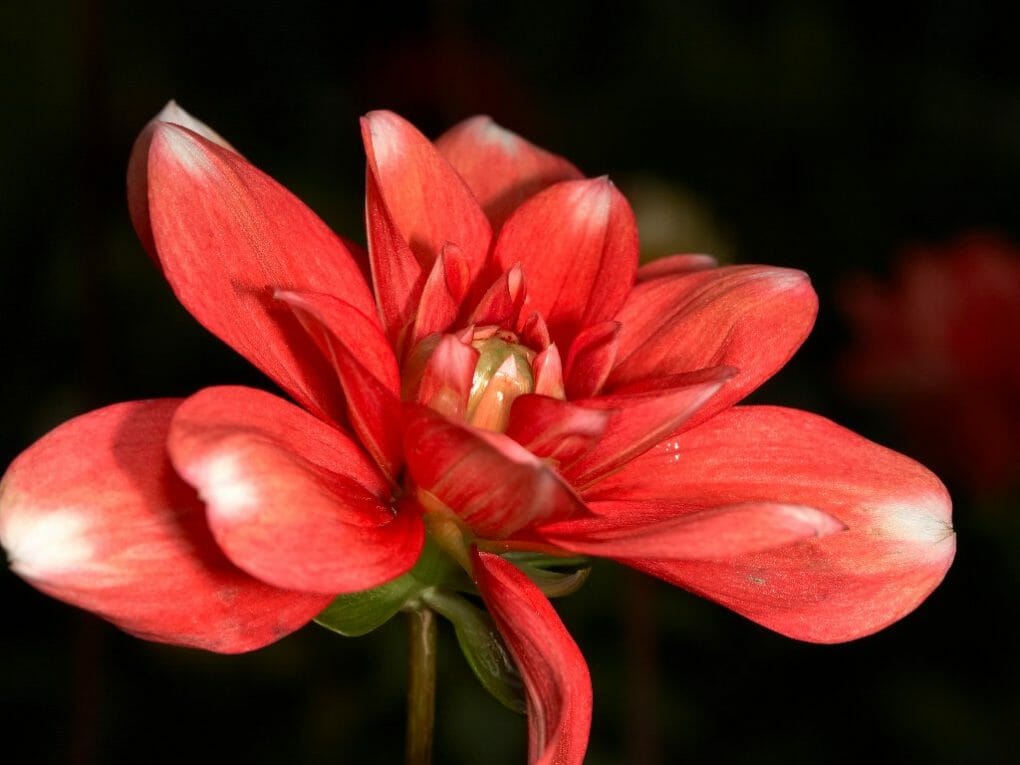 Dahlia Size Codes
| | | |
| --- | --- | --- |
| Codes | Name | Size |
| AA | Giant | over 10 inches in diameter |
| A | Large | over 8-10 inches in diameter |
| B | Medium | over 6-8 inches in diameter |
| BB | Small | over 4-6 inches in diameter |
| M | Miniature | up to 4 inches in diameter |
| BA | Ball | over 3.5 inches in diameter |
| MB | Miniature Ball | over  2-3.5 in diameter |
| P | Pompon | up to 2 inches in diameter |
| MS | Mignon Single | up to 2 inches in diameter |
| S | Single | over 2 inches in diameter |
Flower Type
| | |
| --- | --- |
| Code | Description |
| AN | Anemone-flowered |
| BA | Ball |
| C | Straight Cactus |
| CO | Collarette |
| FD | Formal Decorative |
| IC | Incurved Cactus |
| ID | Informal Decorative |
| LC | Laciniated |
| MB | Miniature Ball |
| MS | Mignon Single |
| N | Novelty |
| NO | Novelty Open |
| NX | Novelty Fully Double |
| O | Orchid-flowering |
| OT | Orchette |
| P | Pompon |
| PE | Peony-flowering |
| S | Single |
| SC | Semi-Cactus |
| ST | Stellar |
| WL | Water Lily |
Dahlia Size Chart
| | | | | | |
| --- | --- | --- | --- | --- | --- |
| Name | Flower Type | Size Code | Flower Size | Plant Height | Color |
| AC Rooster | ST | M | 3 inches | 3 feet | Red |
| AC Rosebud | ID | M | 4 inches | 5 feet | Red Yellow |
| Ala Mode | FD | B or BB | 6 inches | 4 feet | Orange White |
| Ali Oop | FD | BA | 4 inches | 4 feet | Red |
| Allie White | ID | B or BB | 6 inches | 4 feet | White |
| Alloway Candy | ST | B or BB | 6 inches | 4 feet | Pink White |
| Apple Blossom | CO | S | 4 inches | 5 feet | Cream Blush Rose |
| Aurwens Violet | P | P | 2 inches | 3 feet | Dark Lavender |
| Bahama Mama | ID | B or BB | 6 inches | 4 feet | Mauve Pink Yellow |
| Barbershop | ID | B or BB | 5 inches | 4 feet | Red White |
| Beaucon White | ID | B or BB | 6 inches | 5 feet | White |
| Big Checkers | FD | B | 7 inches | 4 feet | Maroon White |
| Black Satin | FD | M | 4 inches | 5 feet | Black Red |
| Blizzard | FD | M | 4 inches | 4 feet | White |
| Bo De O | ID | BB | 5 inches | 3 feet | Yellow |
| Born Sty | ST | BB | 5 inches | 3 feet | Pale Yellow |
| Bradley Aaron | ID | B or BB | 6 inches | 4 feet | Magenta |
| Burma Gem | FD | M | 4 inches | 5 feet | Dark Burgundy |
| Caboose | CO | S | 4 inches | 4 feet | Orange Yellow |
| Canoz Anne | WL | BB | 5 inches | 4 feet | Yellow Dark Red |
| Carl Chilson | ID | M | 4 inches | 5 feet | White |
| Carmen Bunky | WL | M | 4 inches | 4 feet | Dark Pinky |
| Checkers | FD | M | 4 inches | 4 feet | Red White |
| Clearview Snowcap | SC | A | 9 inches | 5 feet | White |
| Colorado Classic | ID | B or BB | 6 inches | 4 feet | Dark Pink White |
| Colorado Pixie | SC | BB | 5 inches | 4 feet | Pale Yellow Apricot |
| Colwood Crush | LC | BB | 5 inches | 3 feet | Orange |
| Cornel | BA | BA | 3 inches | 4 feet | Red |
| Crazy Legs | ST | M | 3 inches | 4 feet | Burnt Apricot Red Reverse |
| D. Sorensenii | S | S | 4 inches | 5 feet | Lavender |
| Devon Eclipse | FD | BB | 5 inches | 5 feet | Yellow |
| Devon Seattle | FD | B or BB | 6 inches | 4 feet | Pink White |
| Diva | FD | BB | 5 inches | 4 feet | Purple |
| Dustin Williams | FD | M | 4 inches | 5 feet | Golden Yellow Rose |
| Eastwood Moonlight | SC | M | 4 inches | 5 feet | Light Yellow |
| Elma Elizabeth | FD | A | 10 inches | 3 feet | Pink |
| EV Bright Eyes | FD | M or BB | 4 inches | 4 feet | Pink Yellow |
| Eveline | FD | BB | 5 inches | 3 feet | White Lavender |
| Ferncliff Copper | FD | BB | 5 inches | 4 feet | Bronze Orange |
| Fidalgo Splash | FD | M or BB | 4 inches | 4 feet | Dark Black Red |
| Fire Magic | SC | B or BB | 6 inches | 4 feet | Smokey Fuschia Mauve |
| First Kiss | SC | M or BB | 4 inches | 4 feet | Pink White |
| French Doll | FD | MB or BA | 3 inches | 4 feet | Light Orange Yellow |
| Frizzy Lizzy | LC | BB | 5 inches | 5 feet | Purple |
| Gay Princess | ID | BB | 5 inches | 4 feet | Pink Cream |
| Gitts Attention | ID | BB | 5 inches | 4 feet | Creamy White |
| Glenbank Twinkle | C | M | 4 inches | 3 feet | White Lavendar |
| Glory Daze | ST | M | 3 inches | 3 feet | Yellow Orange |
| Grayval Shiraz | MB | B | 4 inches | 4 feet | Dark Red |
| Harvey Koop | ID | A | 10 inches | 5 feet | Red Orange |
| Hollyhill 6 in 1 | LC | A | 7 inches | 3 feet | Yellow Red White |
| Holyhill Pinkie | C | BB | 5 inches | 4  feet | Pink |
| Hollyhill Starburst | LC | M or BB | 4 inches | 4 feet | Magenta Yellow |
| Hot Tamale | ID | A | 7 inches | 4 feet | Hot Orange |
| Hulins Carnival | FD | M or BB | 4 inches | 4 feet | Wine White |
| Ivanetti | BA | BA | 3 inches | 4 feet | Purple |
| Jaiver G | WL | M or BB | 4 inches | 5 feet | Red |
| James Albin | FD | A | 8 inches | 5 feet | Yellow |
| Jax | LC | A | 9 inches | 5 feet | Dark Red |
| Jax Char | ID | A | 7 inches | 5 feet | Purple |
| Jazzy | CO | S | 3 inches | 4 feet | Pink Burgundy |
| Jenna | ID | M or BB | 4 inches | 4 feet | Hot Fuchsia |
| Jennifers Wedding | ID | A | 7 inches | 5 feet | Purple |
| Jessie G | BA | BA | 4 inches | 5 feet | Purple |
| Jo | ID | BB | 5 inches | 3 feet | Yellow |
| Just Peachy | SC | BB | 5 inches | 4 feet | Orange Peach |
| Kari Blue | WL | M or BB | 4 inches | 5 feet | Blue Lavender |
| Karma Choc | WL | BB | 5 inches | 4 feet | Dark Red Black |
| Karras 150 | C | BB | 5 inches | 4 feet | White |
| Kasasagi | P | P | 2 inches | 3 feet | Red Yellow |
| Keith H | W | M or BB | 4 inches | 5 feet | Yellow |
| L'Ancresse | BA | BA | 4 inches | 4 feet | White |
| Lakeview Glow | IC | BB | 5 inches | 4 feet | Yellow |
| Lakeview Peach Fuzz | LC | M or BB | 4 inches | 4 feet | Pink Yellow |
| LATE | FD | M | 3 inches | 3 feet | Pink Yellow Orange |
| Lauren Michele | WL | M | 3 inches | 4 feet | Puprle Lavender |
| Little Scottie | P | P | 2 inches | 3 feet | Yellow |
| Lovely Lana | ID | A | 9 inches | 3 feet | Lavender |
| Lupin Ben | BA | BA | 4 inches | 5 feet | Yellow Red |
| Lutt Wichen | WL | M | 3 inches | 3 feet | White |
| Magic Moment | SC | A | 7 inches | 4 feet | White |
| Mardy Gras | FD | M | 3 inches | 4 feet | Bright Orange Yellow |
| Martina | FD | M | 3 inches | 5 feet | White Pink |
| Mazama | WL | M | 3 inches | 3 feet | Hot Pink |
| Mel's Orange Marmalade | LC | B or BB | 6 inches | 4 feet | Orange |
| Midnight Moon | FD | M or BB | 4 inches | 4 feet | White Lavender |
| Mingus Erik | LC | BB | 5 inches | 4 feet | Red |
| Mingus Mary | FD | BB | 5 inches | 3 feet | Red Yellow Orange |
| Mingus Toni | ID | BB | 5 inches | 5 feet | Pink Red |
| Mingus Wesley | ID | A | 8 inches | 3 feet | Lavender White |
| Miss Amara | FD | BB | 5 inches | 4 feet | Yellow Orange |
| Moonstruck | SC | M | 3 inches | 4 feet | Soft Cream Yellow |
| Mr. Jimmy | FD | BB | 5 inches | 4 feet | Orange |
| Ms Kennedy | BA | M | 3 inches | 4 feet | Orange |
| Nanna's Kiss | SC | BB | 5 inches | 3 feet | Pink Yellow |
| Neon Splendor | ID | A | 7 inches | 4 feet | Flame Orange |
| Newaukum Honey | ID | BB | 5 inches | 4 feet | Light Orange Yellow |
| Orange Cushion | ID | M | 3 inches | 4 feet | Orange |
| Orange Pekoe | FD | M or BB | 4 inches | 4 feet | Burnt Orange |
| Oreti Sarah | SC | BB | 5 inches | 4 feet | Purple |
| Pete's Pink Cactus | SC | M or BB | 4 inches | 4 feet | Pink |
| Pinelands Princess | LC | A | 7 inches | 3 feet | Pink White |
| Pooh | CO | S | 3 inches | 4 feet | Orange Yellow |
| Poppers | SC | BB | 5 inches | 4 feet | Yellow Red |
| Procyon | ID | B or BB | 6 inches | 3 feet | Dark Orange Yellow |
| Purple Splash | WL | M or BB | 4 inches | 4 feet | Lavender Purple |
| Rebecca Lynn | FD | M | 3 inches | 3 feet | Rose Pink |
| Red Umbrella | ST | BB | 5 inches | 4 feet | Red |
| Robann Royal | MB | M or BB | 4 inches | 5 feet | Lavender |
| Sassy | FD | M | 3 inches | 3 feet | Pink |
| September Morn | FD | BB | 5 inches | 5 feet | Yellow Rose |
| Shadow Cat | FD | M | 3 inches | 5 feet | Dark Red Purple |
| Shea's Rainbow | IC | BB | 5 inches | 4 feet | Yellow Dark Pink |
| Silverado | ID | M or BB | 4 inches | 4 feet | Light Lavender Pink |
| Skywalker | FD | M or BB | 4 inches | 4 feet | Red |
| Swan Lake | WL | M or BB | 4 inches | 5 feet | White |
| Swan's Olympic Flame | FD | A | 7 inches | 4 feet | Flame Orange |
| The Baron | FD | B or BB | 6 inches | 4 feet | Dark Red |
| Tyler James | ID | A | 8 inches | 4 feet | Flame Orange Yellow |
| Urchin | LC | M or BB | 4 inches | 3 feet | Dark Red Purple |
| Valley Porcupine | NX | M | 3 inches | 3 feet | Pink |
| Vista Pinky | ST | BB | 5 inches | 4 feet | Deep Pink |
| Watercolors | FD | BB | 5 inches | 4 feet | White Lavender |
| Windhaven Blush | SC | A | 7 inches | 4 feet | Yellow |
| Winholme Diane | FD | BB | 5 inches | 4 feet | Pale Yellow |
| Woodland's Wildthing | SC | A | 7 inches | 4 feet | Orange |