Best Tulips in the World | Top Picks For Your Garden this 2023
Tulips are one of the most beautiful plants in the world, and they come in many different colors and shapes. Whether you're looking for a traditional tulip or something a little more unique, there's a tulip for you! In this blog post, we'll look at some of the best tulips in the world and explain their unique characteristics. So read on to learn all you need to know about these beautiful flowers!
Best Tulip Varieties
'Abu Hassan'
The tulip variety "Abu Hassan" has goblet-shaped, deep crimson petals with golden yellow margins. It works well as a focal point of a spring patio container display or for growing in significant clusters on a border. It works well as a cut flower.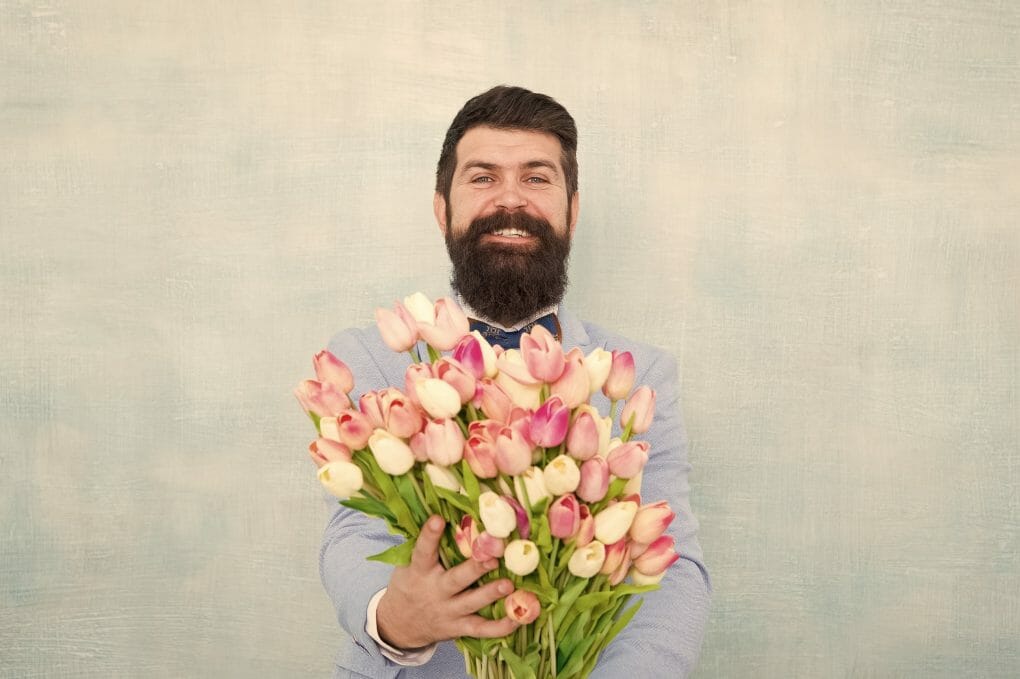 Planting bulbs in November reduces the chance of being attacked by the fungus tulip fire, which distorts the foliage, covers it in fuzzy, grey growth, and causes the flowers to either fail to open or to bear bleached areas. Grow Tulipa 'Abu Hassan' in full sun and well-drained soil for optimal results. To increase the likelihood of flowering the following year, allow foliage to fall after flowering and fertilize with a high-potash fertilizer completely.
Belle Epoque Tulip
This combination of lovely colors that will make you think of springtime in Paris couldn't be more romantic. You can enjoy their endearing appearance by lining a sidewalk with them or placing them outside a window.
Coldplay Tulip
This late spring flower is worth cultivating because of its fringed petals. Plant it alone in vibrant pots as an accent, or combine it with other spring blooms like hyacinths.
Double Fringed Snow Crystal Tulip
Late spring is when you'll start to see these enormous fringed blossoms. In the late spring garden in a vase, enormous, double, pure white blooms with fringed petals look striking. The outer petals of the Double Fringed Tulip Snow Crystal have a bottom-to-top green stripe. These tulips operate best when shielded from strong wind and precipitation due to the size of their flowers.
Double Ice Cream Tulip
These late-spring bloomers resemble an ice cream cone with a scoop of vanilla on top. Every time you gaze at the wacky tulips, a smile will spread across your face.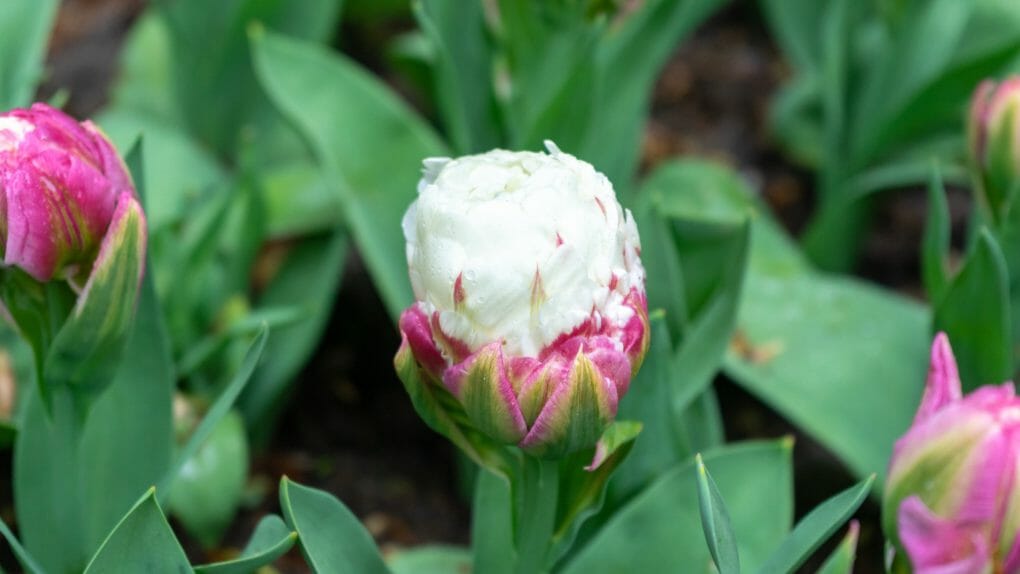 'Toyota'
The superb Tulip "Toyota" is a late spring bloom with Rhodonite crimson blossoms and white borders that are incredibly stunning. It has a lovely bloom and a sturdy, long stem that can withstand wind and rain. This tulip may grow up to 55–65 cm tall.
Tulipa 'Van Eijk'
This tulip is a Darwin hybrid tulip variety. These are all single-flowered cultivars with vivid colors and sturdy stems bearing enduring blossoms. Darwin hybrids are more dependable than other possibilities since, unlike wide tulip varieties, they frequently bloom again for several years after being planted.
Bright, weather-resistant blooms in a dark pink-red color define 'Van Eijk.' It performs well when planted alongside other tulips and is a fantastic choice for growing in herbaceous borders and containers. It is an excellent cut flower.
Double Flowered Tulip
These ruffled, enormous blooms of double Peonies have been compared to the double-flowered Tulip variants with double flowers. Both as cut flowers and in the garden, their blossoms have a lengthy shelf life. You can lengthen the blooming season and take pleasure in these gorgeous blooms for weeks by choosing several varieties.
'Doll's Minuet'
A mainstay of the late-spring garden is the tulip. There are numerous options, like classic single-cup kinds, double-flowered cultivars, and ones with classy goblet-shaped blossoms. In full sun and good, well-drained soil, tulips thrive. But because they don't always return the following year, treating them as annuals is usually better.
The tulip cultivar known as "Doll's Minuet" has lily-shaped flowers. The thin petals are a pinkish-red color with green striations at their bases. Plant in well-drained soil 15 cm deep and 10–15 cm apart. To prevent the Tulipa 'Doll's Minuet' plant from using its energy to produce seeds that would otherwise be used to produce blossoms the following year, remove any fading flowers.
Elegant Lady Lily-Flowering Tulip
Strong Gold features a primrose-yellow surface with slight orange flames and a canary-yellow interior. It is reputed to be the strongest, solid yellow tulip. Triumph Tulips are renowned for working well when forced.
Leather Bulb Tulip
This tulip is native to Central Asia. It is a species of low-growing tulip (Division 15) that blooms in April with cup-shaped orange-red flowers (1-4 flowers per stem) on stems that are 8–12″ long and faintly hairy. This species lacks basal blotches.
'Glasnost'
The tulip variety "Glasnost" flowers are bright crimson with golden borders. Each flower seems ruffled due to the fringed petals, which also cause the flowers to grow large. Tulipa 'Glasnost' fading flowers should be removed seeds, even though it is advised to allow foliage to die back before removing it to promote firm bulbs.
'Kingsblood'
It has dark cherry crimson with scarlet edges. A splash of color will be added to the late spring garden by the magnificent tall, robust tulip known as Kingsblood. For a striking combination, combine with dark maroons and oranges, or plant it alone for a strong statement.
Parrot Tulip Mix
You'll be reminded of feathers by these lovely ruffled tulips. They are vibrant and flashy in addition to being excellent cut flowers. Late spring is when they should bloom.
'Reputation'
It's a Tulip that blooms in the midseason. It has a distinct golden yellow band around the petal edges and a full red bloom. These Tulips are ideal for exposed areas because of their robust nature and endurance to lousy weather. They bloom in the middle of the season, between April and May, when they are planted with early-flowering tulips. This helps to keep the garden colorful. Its reputation will increase by 45 cm. There is also a Merit Garden at the RHS. For the garden, this tulip is both attractive and colorful.
'Red Proud'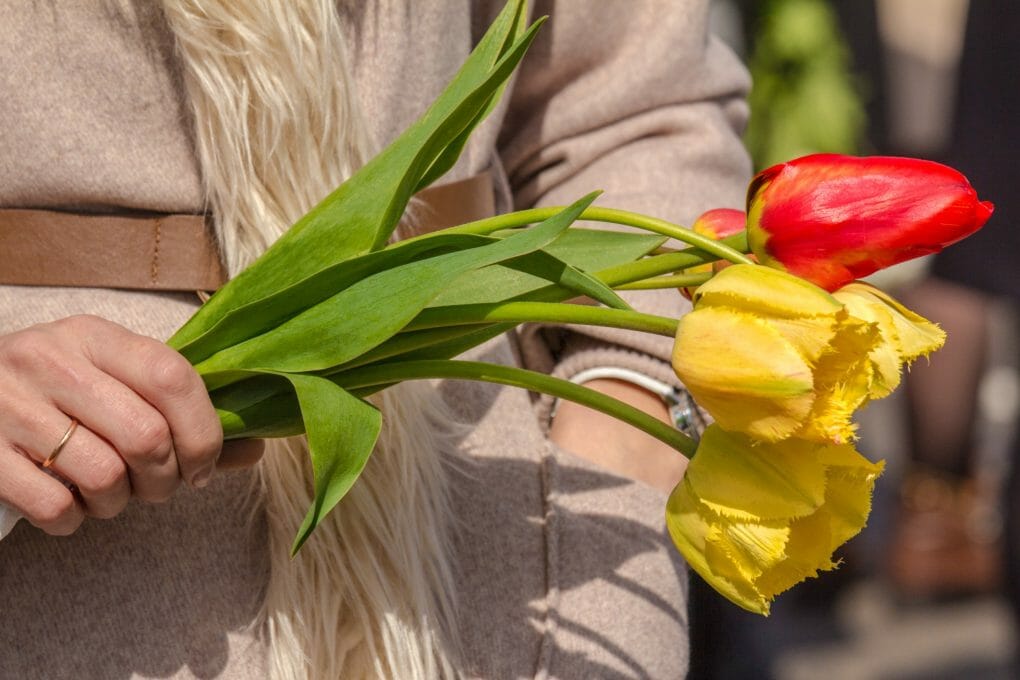 The tulip Red Pride has gigantic blossoms, a robust stalk, and huge leaves. Each flower petal is unique in color, ranging from red to orange. Consequently, there is a lovely soft color combination on the blossom.
'Strong Gold'
Strong Gold features a primrose-yellow surface with slight orange flames and a canary-yellow interior. It is reputed to be the strongest, solid yellow tulip. Triumph Tulips are renowned for working well when forced.
'Uncle Tom'
'Uncle Tom' has many petals that give it the appearance of a peony. Their buds are dark crimson before they open; they turn a stunning purplish-red after they bloom.
Valery Gergiev Tulip
No matter where you put this stunning tulip with fringed borders in your landscape, it will stand out. It will bloom in the late spring and looks best when planted in huge groups.
Peony Tulip
This flower's bloom is so thick and complete that it is referred to as a peony tulip! Expect them to blossom in the late spring if you put them in flowerbeds or along borders.