Anemone: Is It Annual or Perennial? Anemone Grow Year After Year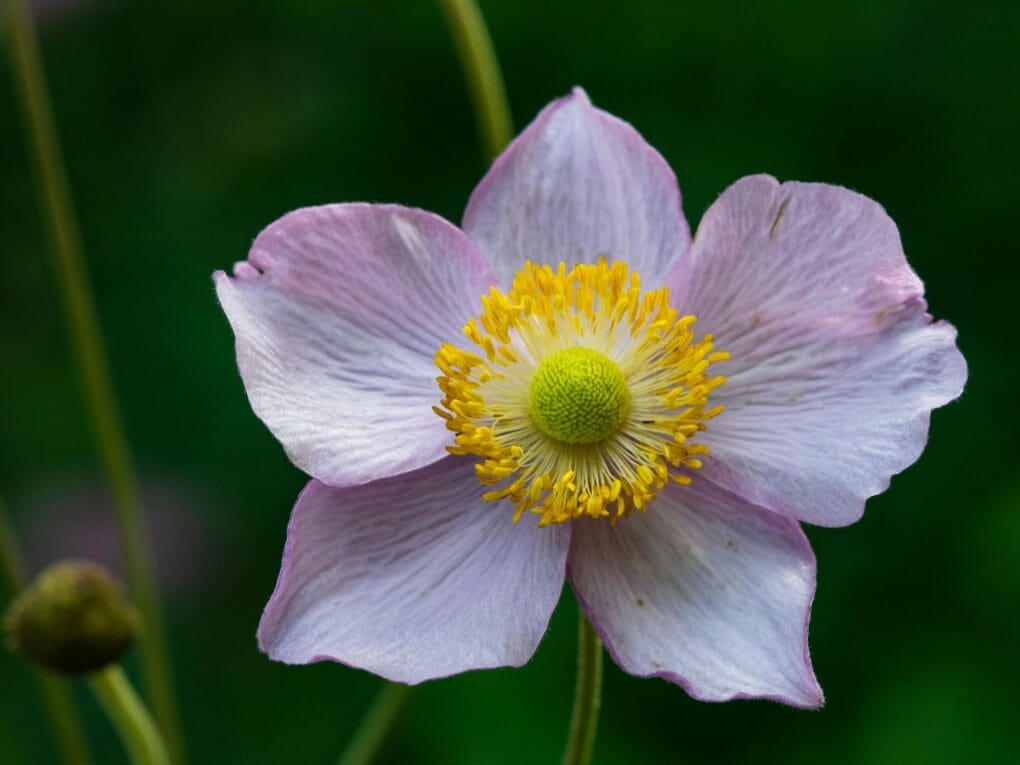 Anemones come from the Mediterranean and Europe. They live for more than one year or what we call "perennial." After flowering, they die back and go to sleep for the summer and fall. In the spring, they start growing again. There are more than 120 different species of anemone which belong to the Ranunculaceae (buttercup) family. These herbaceous perennials are local to the subtropical and temperate zones of Africa, Asia, Europe, and North America.
They can be found in various environments, including subalpine meadows, scorching Mediterranean hillsides, temperate riverbanks, and open forests.
Anemone Blooming in Seasons
Amazingly low-maintenance, their lovely flowers bloom for three to six weeks. All species are friendly to pollinators like bees and butterflies while remaining unpalatable to ungulates. In gardening, there are primarily three classes of plants to think about:
Anemone Spring Blooming
The first category consists of the spring-blooming plants that develop from tubers (corms) or rhizomes.
They tend to be purely species plants with few hybrids. The flowering spring group is built around A. blanda, often called Grecian windflowers or Balkan anemones.
Multiple stems of lovely daisy-like flowers grow from ferny foliage and bloom from late winter to early spring, reaching a mature height of only four to eight inches.
Beautiful in the early garden, these blooms have greenish-gold button eyes and long, narrow petals. Bright splashes of color, including blue, pink, mauve, and white flowers, open throughout the day and close at night or when rain is in the forecast.
Fall planting of the corms results in a beautiful display of spring flowers that can stand alone or complement other early bloomers, including daffodils, grape hyacinths, snowdrops, and tulips.
They can survive in full to partial sunlight and are hardy in USDA Plant Hardiness Zones 4-9.
Alpine and woodland species such as A. canadensis, A. virginiana, and A. sylvestris also flower in the spring.
Some, like A. nemorosa and A. tuberosa, have mauve and pink flowers, while others are cream or white with wide petals (tepals).
Only a few species have yellow flowers, including A. ranunculoides and A. richardsonii.
The greatest places to plant these natural species are in areas where they may colonize freely and spread far.
They are not always easy to find but can be in stores that focus on local, unusual, or wild plants.
Most plant species are hardy in USDA growing zones 3-8, and both domesticated and naturalized varieties thrive in full or partial sunlight.
Summer Blooming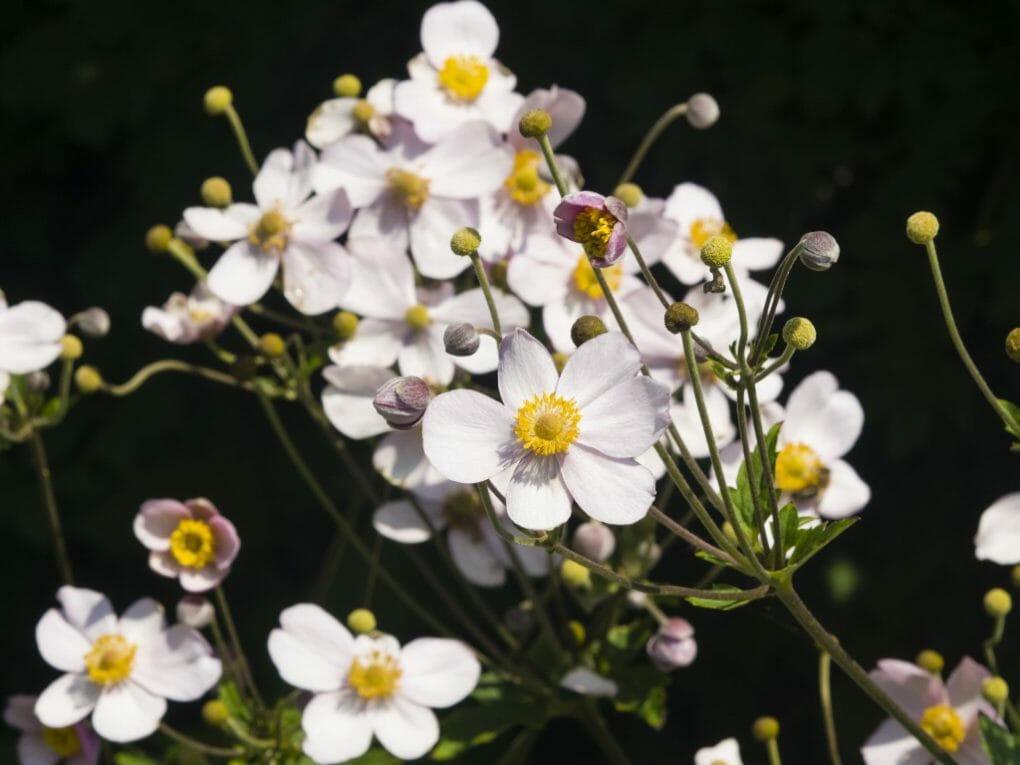 The popular A. coronaria species, often known as poppy anemones, grow from corms and bloom throughout the summer.
Most of the time, these are hybrids, with the 'De Caen' and 'St. Brigid' series is two of the most common. Because they bloom so early in the summer, these windflowers are frequently used in bridal bouquets.
Plants in this size range reach a height of eight to sixteen inches and are characterized by fine, parsley-like foliage and several stalks of colorful, poppy-like flowers in a wide range of colors (including blue, magenta, mauve, scarlet, and pink blossoms with dark, dramatic eyes).
These people, hailing from the Mediterranean region, thrive in hot, sunny climates.
The corms of this plant, which have a tuberous root system, should be planted in the fall or the spring. Only hardy in Zones 7–10, these perennials bloom for four to six weeks in late spring and early summer after being planted in the fall.
The corms can be dug up and stored for the winter, or they can be treated as annuals and cultivated in warmer climates, where they will bloom three months later, in early to midsummer.
Fall Blooming
A. hupehensis and many hybrids designated A. x hybrida, sometimes referred to as Chinese or Japanese anemones, produce flowers in the fall. These plants are grown from hard rhizomes, fibrous roots planted in the fall or spring.
The average adult Japanese type stands between 24 and 48 inches. The stems are branching, and the flowers are enormous and saucer-shaped, coming in mauve, shades of pink, and white with large button eyes in chartreuse or gold.
Mats are formed when plants are spread by underground runners and persist for a long time. Under the right conditions, like those found in Hawaii, they can become invasive. The rest of us benefit from a modest and manageable rate of spread.
They do best in full sun, with some afternoon shade, or in dappled shade. Not only do they look great in a vase, but they also bring in pollinators late in the season. The hardiness zone range for A. hupehensis ranges from 4b to 8b.
A. vitifolia and A. tomentosa are two other species that flower in the fall.
Garden Uses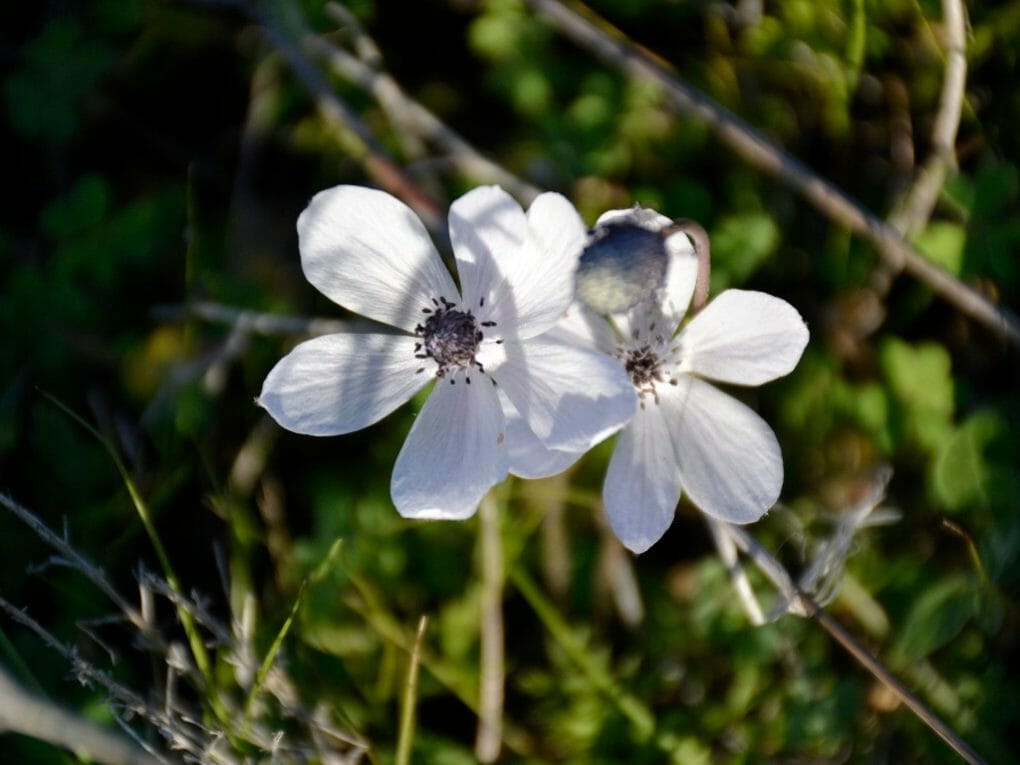 The versatility and beauty of windflowers make them a welcome addition to any garden.
These plants are spectacular when planted in massed drifts in beds, borders, containers, or rockeries. They thrive in naturalized environments like meadows, deciduous trees, and open forests.
Except for A. coronaria, which requires full sun, all species are suitable for use in partially shaded gardens.
When combined with other early spring blooms, such as daffodils, muscari, tulips, or snowdrops, A. blanda creates a beautiful display.
And A. hupehensis works well with rhododendron and azalea bushes and other later bloomers like asters and chrysanthemums.
However, A. coronaria prefers to be on its own and does best in solitary cultivation.
Shade gardens or naturalized regions are ideal for propagating native herbaceous plant species, including A. canadensis, A. virginiana, and A. sylvestris.
Anemones are a great addition to any garden because of their attractive color and steady performance in various settings.
To hasten the departure of winter, plant some early-blooming Grecian windflowers; to revitalize the garden in early summer, plant some brilliant poppy anemones; and lend the autumn plantings the majestic majesty of Japanese anemones.
No matter what you decide to plant, you'll be pleased with the attractiveness and dependability of your plants during the full growing season.